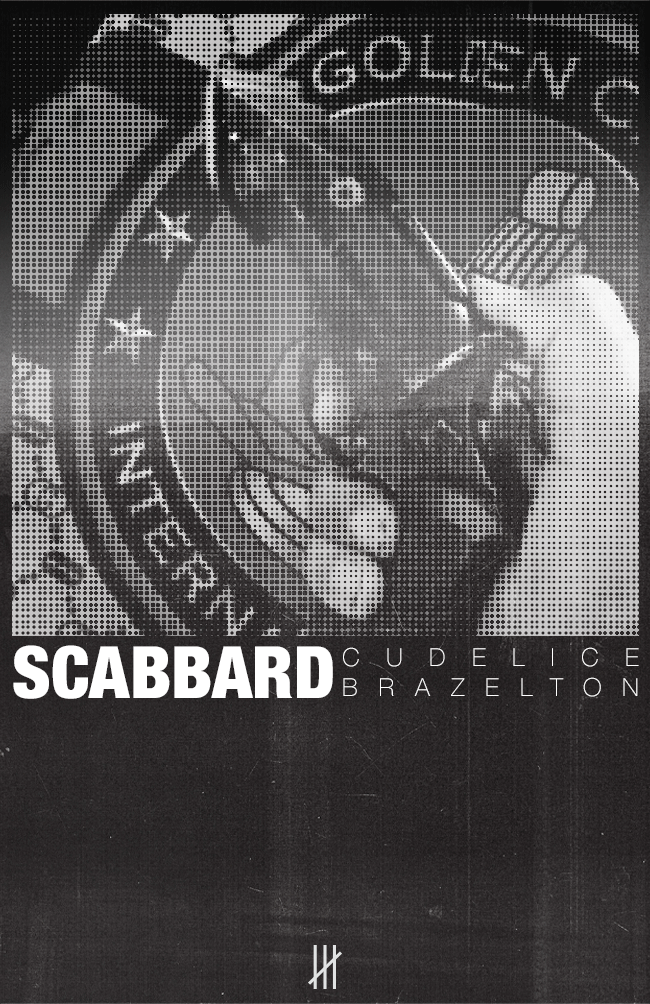 Cudelice Brazelton
SCABBARD
Opening
14.06.2019, 7 pm
Exhibition
15.06.2019 – 19.07.2019
Open by appointment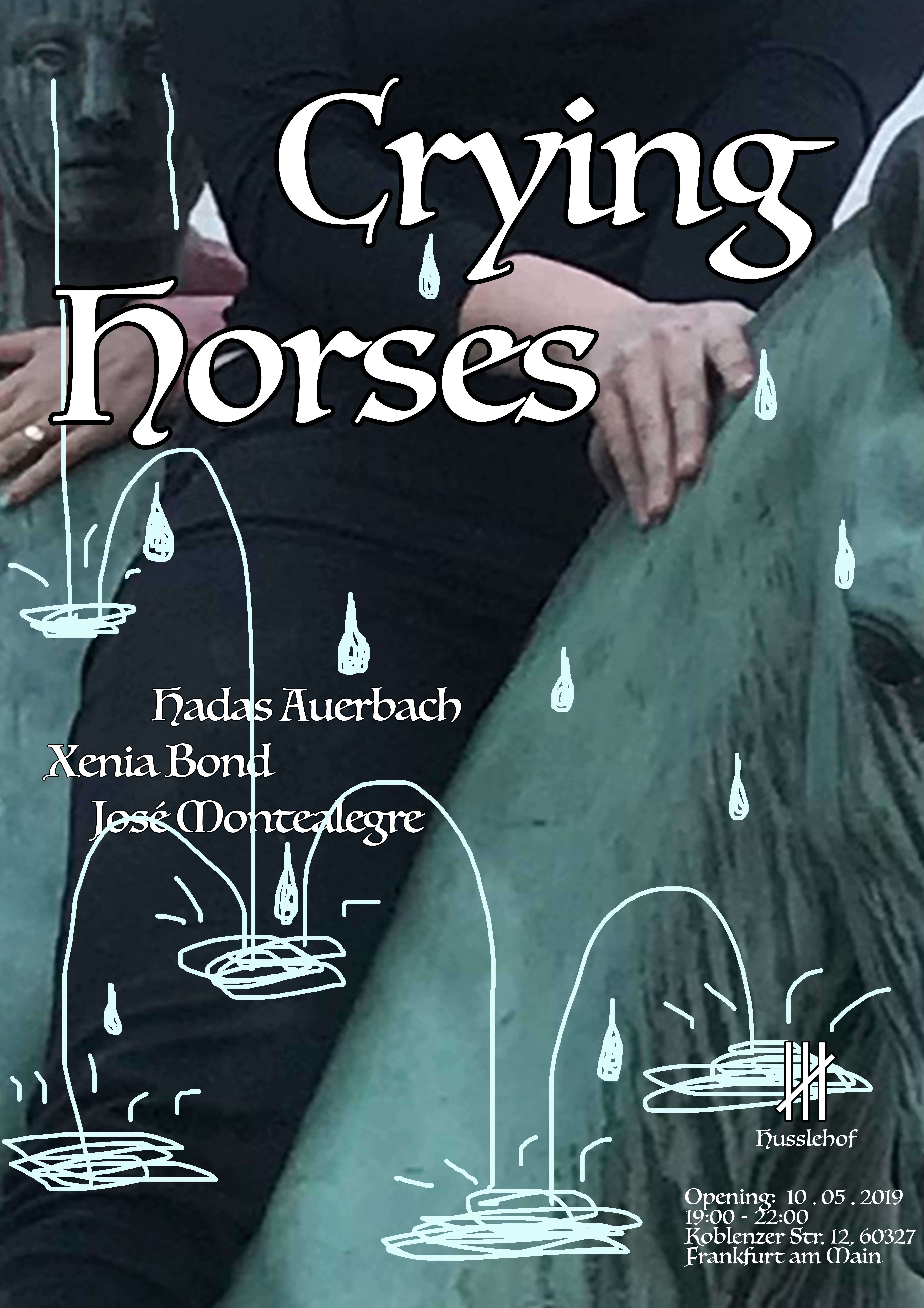 Hadas Auerbach, Xenia Bond, José Montealegre
Crying Horses
Opening
10.05.2019, 7 pm
Exhibition
11.05.2019 – 24.05.2019
Open by appointment
Husslehof happily invites you to the opening of Hadas Auerbach, Xenia Bond and José Montealegre´s collaborative exhibition `Crying Horses´. The exhibition is a collaboration and investigation into the relationship dynamic between three crying horses. A text by Harry Davies will be published on the occasion of the opening night.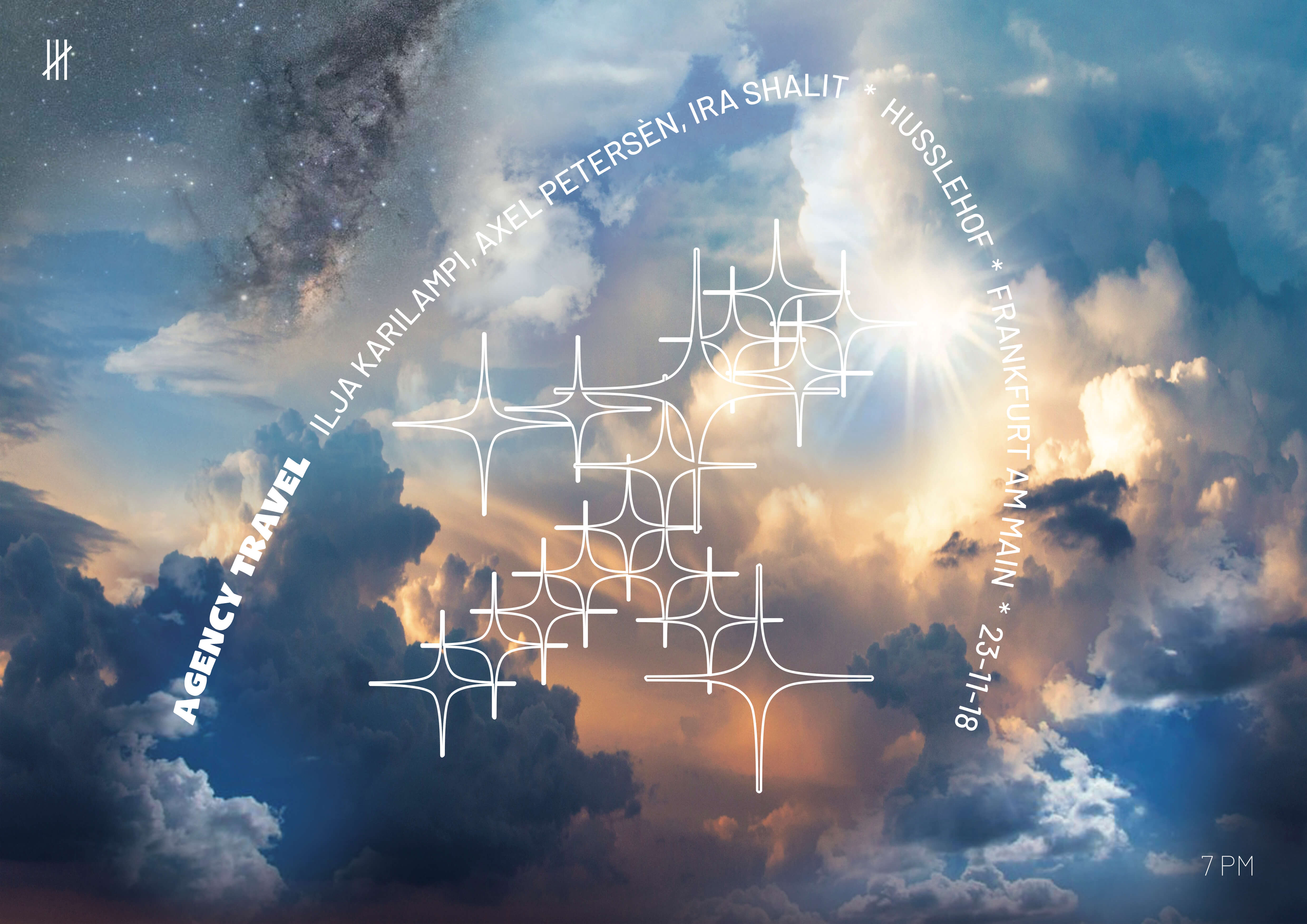 Ilja Karilampi, Axel Petersén, Ira Shalit
AGENCY TRAVEL
Opening
23.11.2018, 7 pm
Afterparty
23.11.2018, 10 PM – 3 AM
with IKU, Downtown Ilja & Vangee
at Le Meridien, Wiesenhüttenplatz 28-38
Exhibition
24.11.2018 – 20.01.2019
Open by appointment
A life-raft was purchased by the agency from a flat-earther who as boy learned to sail by the sea and now examines google-earth images for evidence of globe fabrication. The hawker saw enough, and gazes beyond the sea's subtle curved horizon.

Two major tropes of the traveller exist: a longing wanderer steeped in a sense of exile and his counterpart, the nomadic citizen of the world, who is at home everywhere. Artists are normally expected to conform to the latter, to practice their research from a suitcase with a laptop and intermittent Wi-Fi. In foreign lands, the artists should develop a routine of translating unfamiliar situations into future exhibitions. This approach to foreignness and unfamiliar constellations is by no means a marginal competence for contemporary artists but has become almost inevitable. This type of mobility dates further back than the current 'explosive growth' of artists' nomadic behavior. For all field-specific peculiarities one should not ignore the connection between the currently prevailing economic conditions of a capitalistic working world. It has become a commonplace that in the context of a gig economy, mobility has become, alongside flexibility, a "cardinal virtue" and the contemporary artist the ideal personification of this work-life-amalgam.

When conceptualizing an exhibition about travelling, not many cities are as fitting as Frankfurt. The city is a hub for motion: Pumping people through the city via rail and highway, the airport is the interface and entry point for so many visitors to Europe. Another form of flow gets created through the financial activities in the city, embodied in high frequency trades transmuted in a nexus of fiber cables and data warehouses. We go full circle, if we understand the mobility as a social and economic condition of artists and culture professionals and, at the same time, a vector of social and economic development.

One aspect of travelling should not be unmentioned: The internationality of the cultural and creative sector is not necessarily accompanied by a growing liberalization of border traffic. This form of free floating between cultures and countries is only granted to a limited group of people. Passports are the countries they open, they are a yardstick of how many privileges his or her holder can claim and automatically exclude people with passports that are regarded as less of an asset. Leaving a massive gap between the utopia of travelling and the reality of state borders and human migration. Even if certain groups are prohibited from participating in this flow, travelling has made a major contribution to our illusion of the world as a global village. Consequently, it comes as no surprise that many artists today are employing the language of travelling in their work. The spectrum of how artists are approaching this topic is manifold and diverse, but still there are certain clusters of shared interests or roles artists take on when they circle the topic.

The three artists that developed "Agency Travel" together with Felix Große-Lohmann represent the prototypical roles that artists take on when they create work in this complex constellation of global currents and multiple worlds:

Ilja Karilampi dives into the richness that the usage of an international language offers. He juxtaposes elements from public advertisement, music, fashion and nightlife for the viewer to decipher their origins and the hyper-meaning they create in their newly formed context. These symbols seem to be uncoupled from their place of origin; instead bound to one another through the rhythm of their flow and their formal resemblances. Separated from a specific place, they exude their own unique sense of 'authenticity'. The work plays with one of the main motors that make contemporary life to what it is: The www.

Counter-movements to this decontextualizing tendency include strategies of deceleration, positioning and symbolic territorializing which aim to make a concrete grasp of space possible again. In pursuit of this, some artists engage with the particularities of places, documenting as well as reinterpreting traditions and pictorial worlds. Ira Shalit is using his role as artist and curator in shedding light on the societal level. This pays tribute to the argument that art cannot and should not be obscured of the geopolitical nuances of its production, distribution, and reception. Therefore, Shalit merges and frees artistic fields in-between borders of cultural practices. His collages, computer drawings, radio shows and interdisciplinary curatorial projects, create walk-in situations that communicate microcosms or 1:1 models of places for the visitor to experience and experiment.

As a film maker and by incorporating elements of journalistic practice into his own artwork, Axel Petersén occupies another important role for current artists: This investigative approach combined with a flirtation towards an exoticizing glance leads to something that French ethnographer Victor Segalen would have described as: "(…) the task of defining and laying out the sensation of Exoticism, which is nothing other than the notion of difference". Here the jetset — airport coffee, safety on flight demonstrations and living on an airplane and out of a suitcase — is burning.

The artistic positions of "Agency Travel" oscillate between concrete and imagined perceptions of place, and through their narrative, new spaces are created. Referencing real places produces new ones, and borders are being continually overstepped only to be redrawn. Like vessels within a sea, the artworks come together, inviting the audience to participate in a dialogue, traversing the exhibition in a curiosity-driven voyage and hover between past and contemporary conditions, of fluid topographies and challenged
expectations.

Anna-Viktoria Eschbach

Anna-Viktoria Eschbach and Antonie Angerer are running I:Project Space in Beijing, China.
all photos Ivan Murzin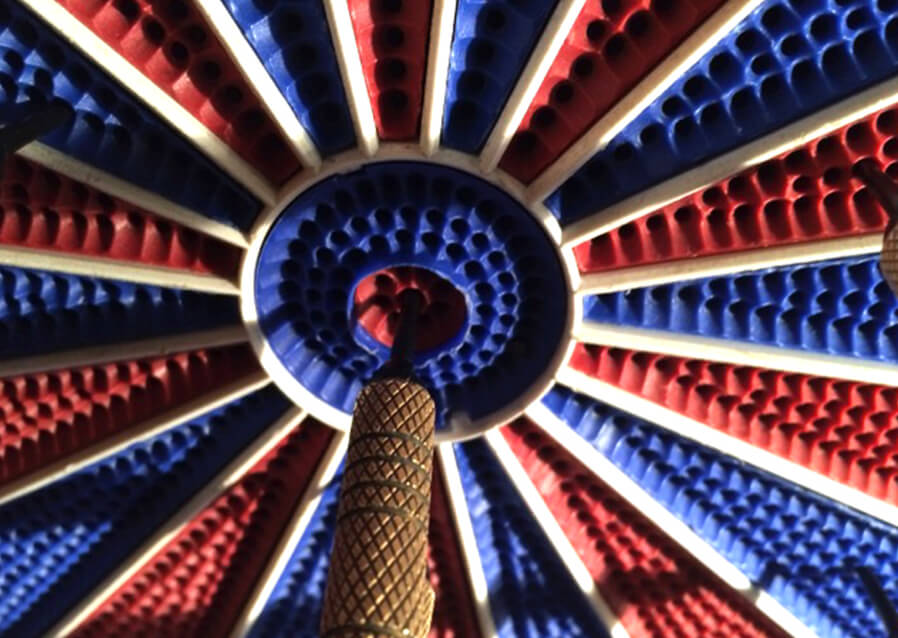 Kalin Lindena & Jo Dickreiter
Uptown
Opening
07.09.2018, 6 pm
Exhibition
08.09.2018 – 05.10.2018
Öffnungszeiten Saisonstart Frankfurter Galerien
07.09.2018, 18 – 22 Uhr, 08.09. & 09.09.2018, 11 – 18 Uhr
& nach Vereinbarung
Uptown – Zeichnungen erscheinen auf Papier, erschliessen Teile von Skulpturen und werden zum Ausgangspunkt von Malerei, welche skulpturale Elemente, Körper und Raum aus ihrer Dreidimensionalität befreit und intermediale Rezeptionssituationen schafft. Der Anfang einer endlosen Stadt.

Kalin Lindena und Jo Dickreiter haben zusammen in der Klasse von Walter Dahn an der Hochschule für Bildende Künste Braunschweig studiert, die Jo Dickreiter als Meisterschüler absolvierte. Kalin Lindena ist heute Professorin für Grafik und Malerei an der Akademie der Bildenden Künste Karlsruhe. Jo Dickreiter und Max Marion Kober betreiben den Ausstellungsraum Garage Johnny Guitar in Winden, Schwarzwald. Am Eröffnungsabend findet ein Konzert von Jo Dickreiter statt.
all photos Ivan Murzin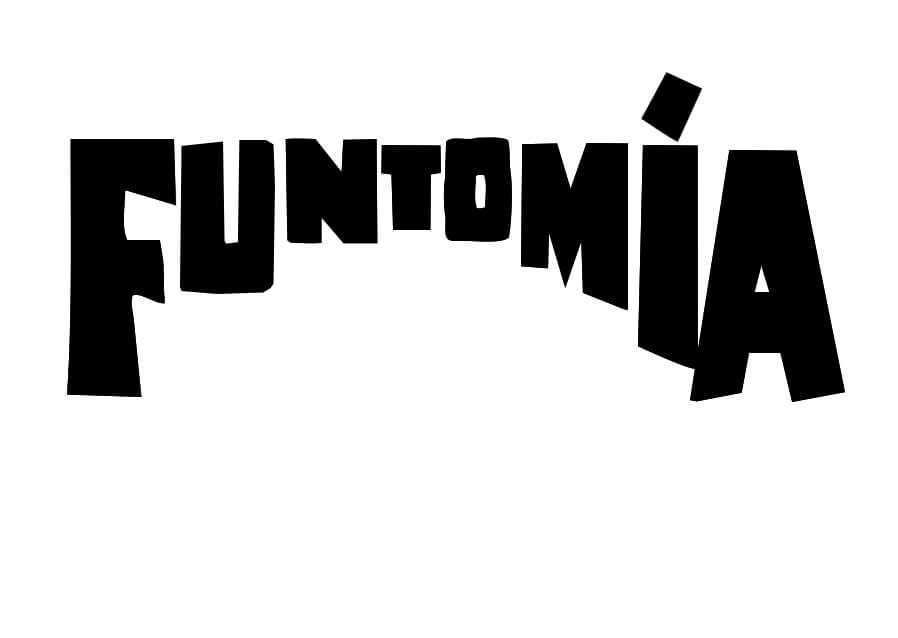 Bernhard Buff
Funtomia
Opening
20.07.2018, 7 pm
Exhibition
21.07.2018 – 24.08.2018
By appointment only
"Straining. The bow is tensed, the finger is touching the trigger. An object gathering in the moment before action. In this moment time expands, the present becomes tangible. The sculptures gather in that millisecond, their silent preparedness for action makes this tension the very material they are formed of."

Unknown, 2015
all photos Sean Yongxiang Li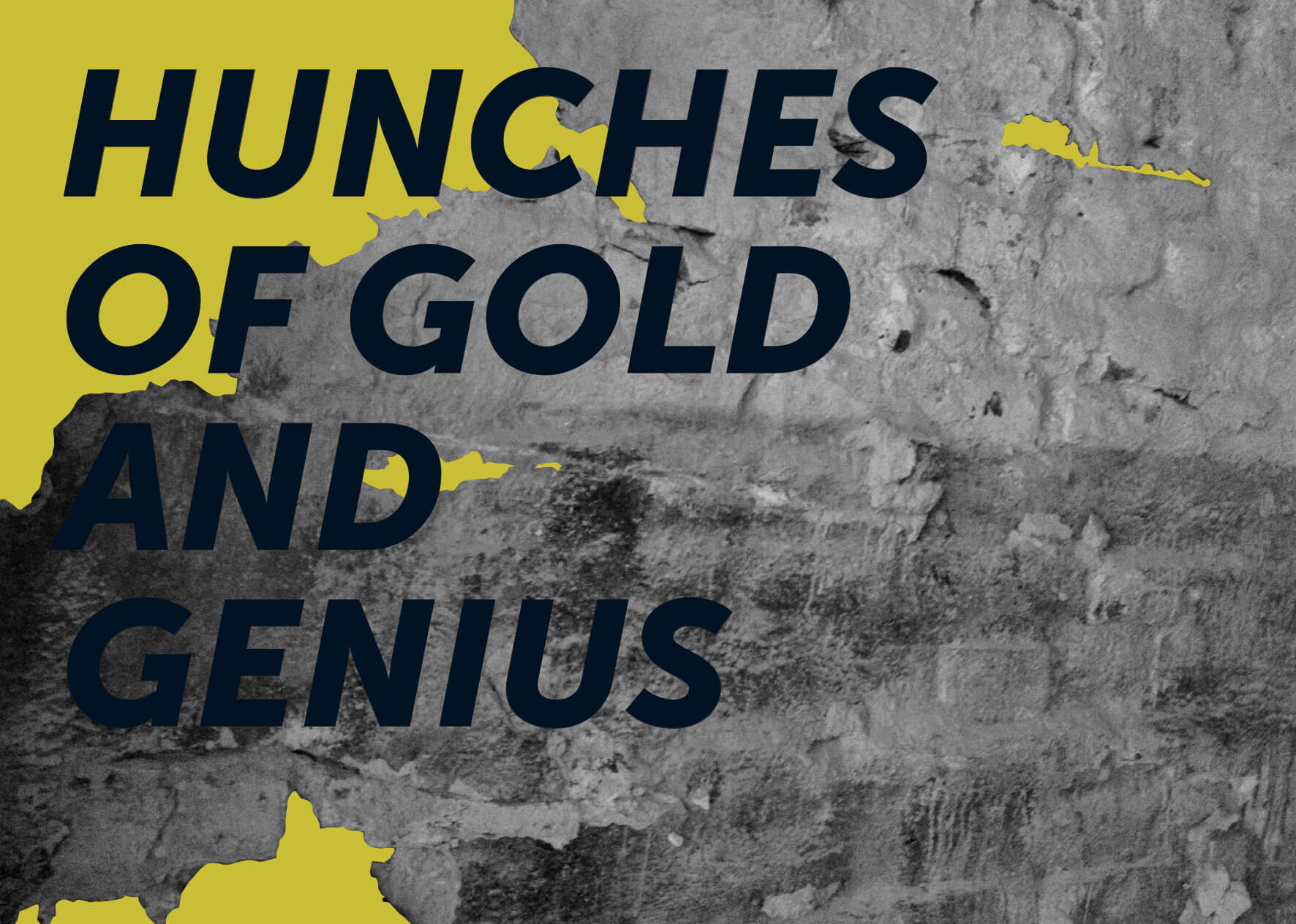 Inga Danysz, Maarten Van Roy, Nina Schuiki, Franziska Wildt, Alex Wissel & Jan Bonny
Hunches of Gold and Genius
Opening
19.10.2017, 7 pm
Exhibition
20.10.2017 – 19.11.2017
Opening Hours
Donnerstag, 18 bis 20 Uhr
Samstag & Sonntag, je 15 Uhr bis 18 Uhr
sowie auf Anfrage
Im Rahmen der Ausstellung Hunches Of Gold And Genius sind die KünstlerInnen Inga Danysz, Maarten Van Roy, Nina Schuiki, Franziska Wildt sowie Alex Wissel & Jan Bonny dazu eingeladen, auf die spezifischen Kontexte der für das Projekt kollaborierenden Ausstellungsorte Husslehof und SIKS e.V. zu reagieren. Durch ihre benachbarte Lage im Frankfurter Gallusviertel stellen sowohl der selbstorganisierte Ausstellungsraum Husslehof wie auch die Stadtteilinitiative SIKS e.V. jeweils jene Orte dar, in denen sich derzeit verschiedenste historische, sozioökonomische, subkulturelle und ästhetische Kontexte überlagern. Während ein Teil dieser Zusammenhänge offen zu Tage tritt, bleiben andere jedoch nur in ihrer verdeckten Existenz zu erahnen.

In einer Variante seines gängigen Sprachgebrauchs beschreibt das Verb "to hustle" einen Modus der konfliktbeladenen Anstrengung und steht somit für ein Improvisieren und kunstfertiges Agieren innerhalb widriger Umstände. Im Rahmen von Hunches of Gold and Genius werden diese von den KünstlerInnen sowohl als faktische Ausgangs- und Referenzpunkte genutzt wie auch spielerisch oder fiktiv in ortspezifischen Arbeiten aufgegriffen, um neuen Sichtweisen und Bedeutungsdimensionen nachzuspüren. Nicht zuletzt möchte die Ausstellung dabei in vielfältiger Weise die übergreifende und aktuelle Frage nach der Konstituierung der beiden Ausstellungsorte beleuchten und reflektieren.

Kuratiert von Christin Müller und Stefan Vicedom

Mit freundlicher Unterstützung von Kulturamt der Stadt Frankfurt und maecenia Frankfurter Stiftung