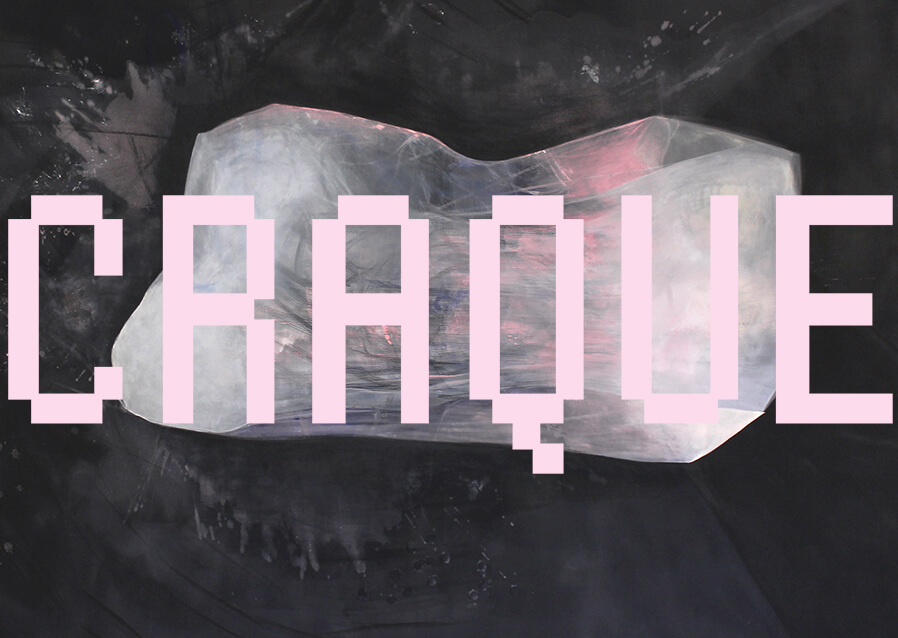 Max Marion Kober
CRAQUE
Opening
06.09.2019, 6-10 pm
25.Saisonstart Frankfurter Galerien
07.09.-08.09.2019, 11 am-6 pm
Guided Tours, 5 pm
The Frankfurt Art Experience
Gallus Walk, 08.09.2019, 11 am
Exhibition
07.09.2019 – 04.10.2019
Open by appointment
Mit CRAQUE eröffnet die erste Einzelausstellung der Malerin Max Marion Kober im Husslehof. Der Würfel beansprucht ressourcenübergreifend das Recht auf alle Handlungsmöglichkeiten in seiner Form. Diese Arche-Moderne Abstraktion wird von Kober endgültig gebrochen: Frakturen, Brüche und Undichtheiten materialisieren sich in Gouache auf Leinwand und Papier und zeugen von Massen, die sich selbst nicht mehr halten können. Max Marion Kober studierte bei Walter Dahn und Michael Krebber. Zur Ausstellung erscheint ein Text von Dr. Marietta Franke.

With CRAQUE Husslehof opens the first solo exhibition of the painter Max Marion Kober. Across resources, the cube claims the right to all possibilities of action in its form. This arche-modern abstraction finally is broken by Kober: Fractures, breaks and leaks materialize in gouache on canvas and paper and testify to masses who can no longer hold themselves. Max Marion Kober studied with Walter Dahn and Michael Krebber. The Exhibition will be accompanied by a text by Dr.Marietta Franke.
all photos Eike Walkenhorst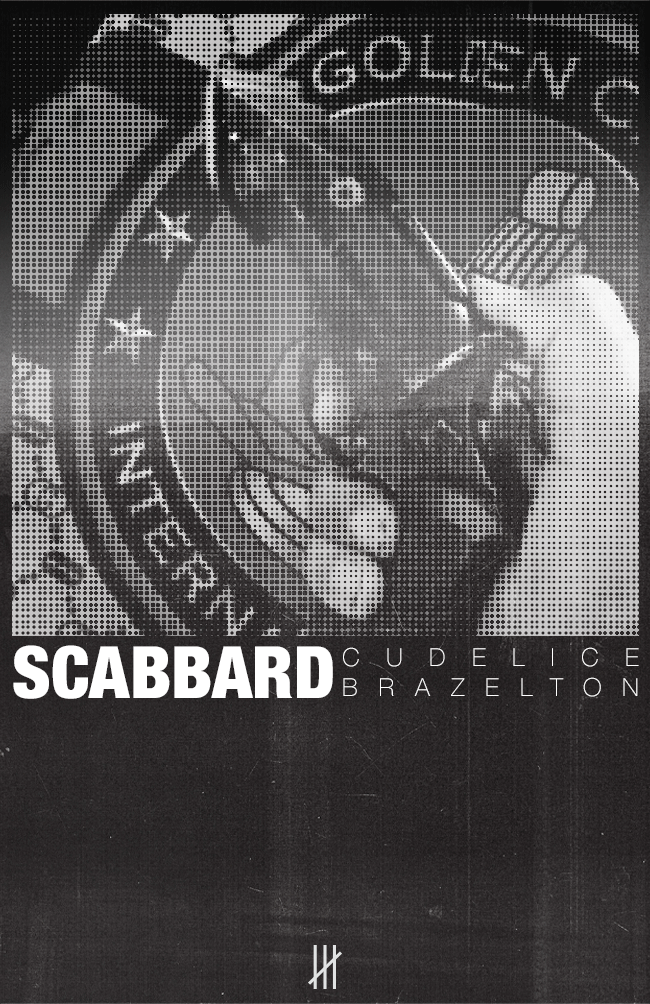 Cudelice Brazelton
SCABBARD
Opening
14.06.2019, 7-10 pm
Exhibition
15.06.2019 – 19.07.2019
Open by appointment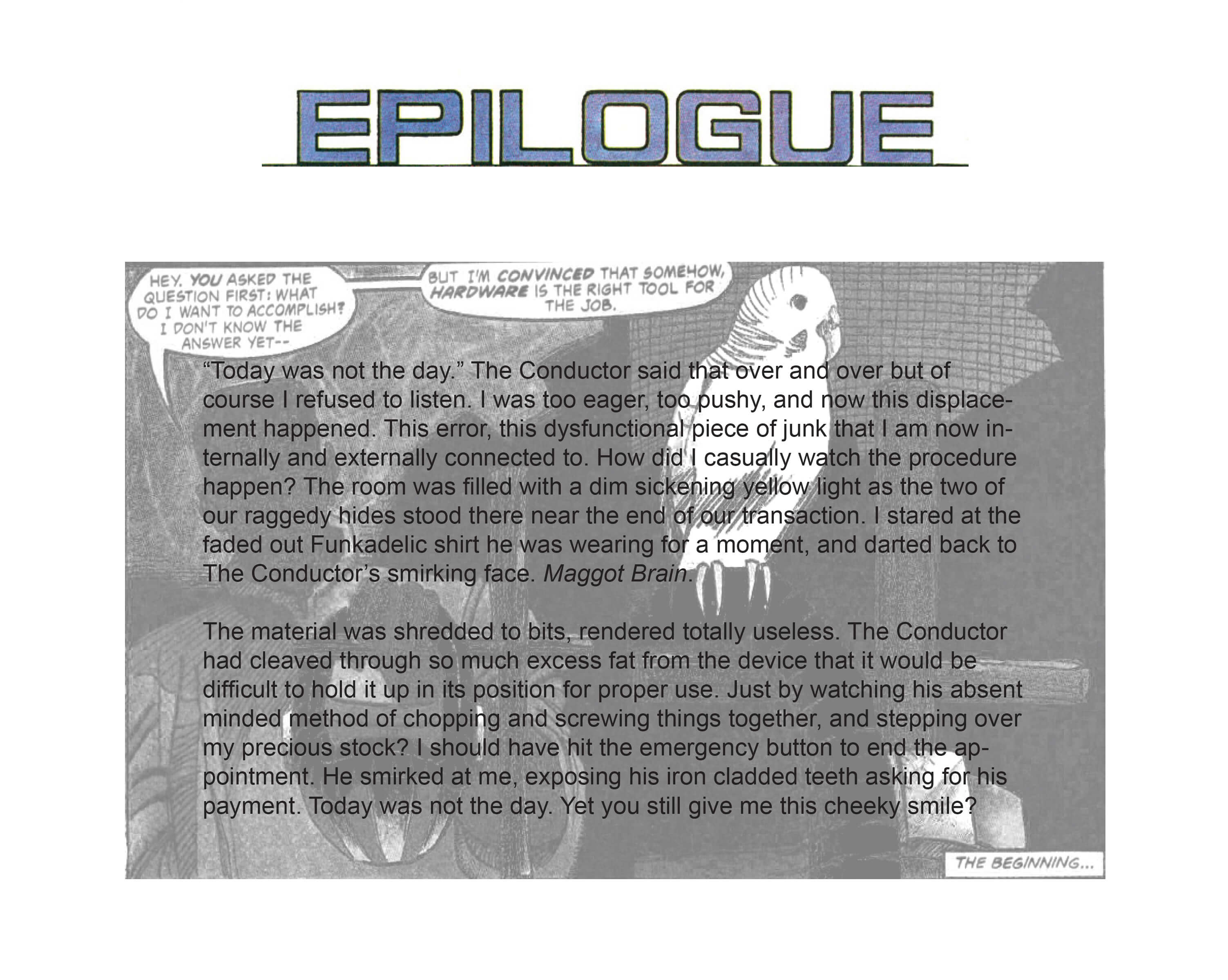 all photos Eike Walkenhorst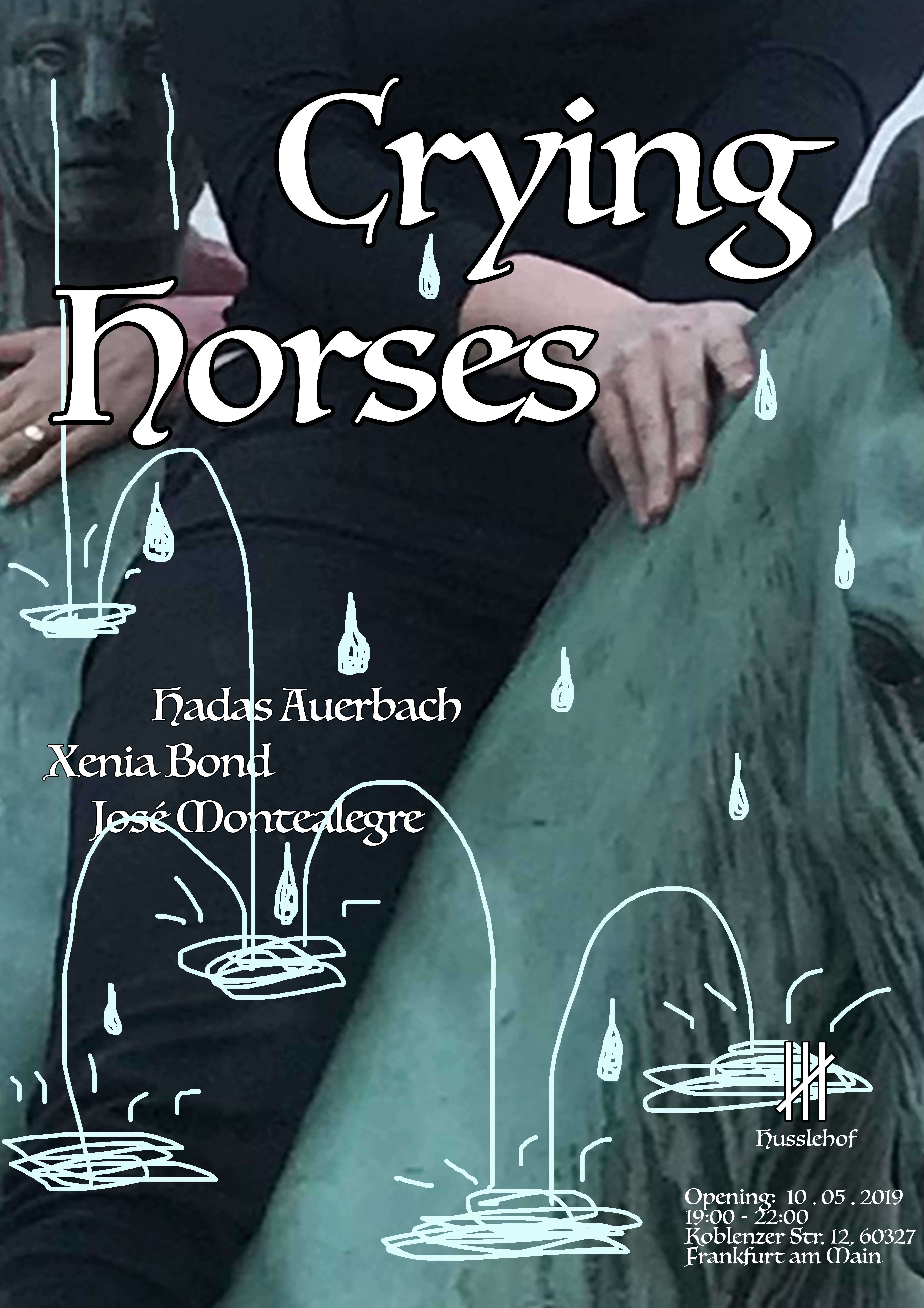 Hadas Auerbach, Xenia Bond, José Montealegre
Crying Horses
Opening
10.05.2019, 7-10 pm
Exhibition
11.05.2019 – 24.05.2019
Open by appointment
Husslehof happily invites you to the opening of Hadas Auerbach, Xenia Bond and José Montealegre´s collaborative exhibition `Crying Horses´. The exhibition is a collaboration and investigation into the relationship dynamic between three crying horses. A text by Harry Davies will be published on the occasion of the opening night.
all photos Eike Walkenhorst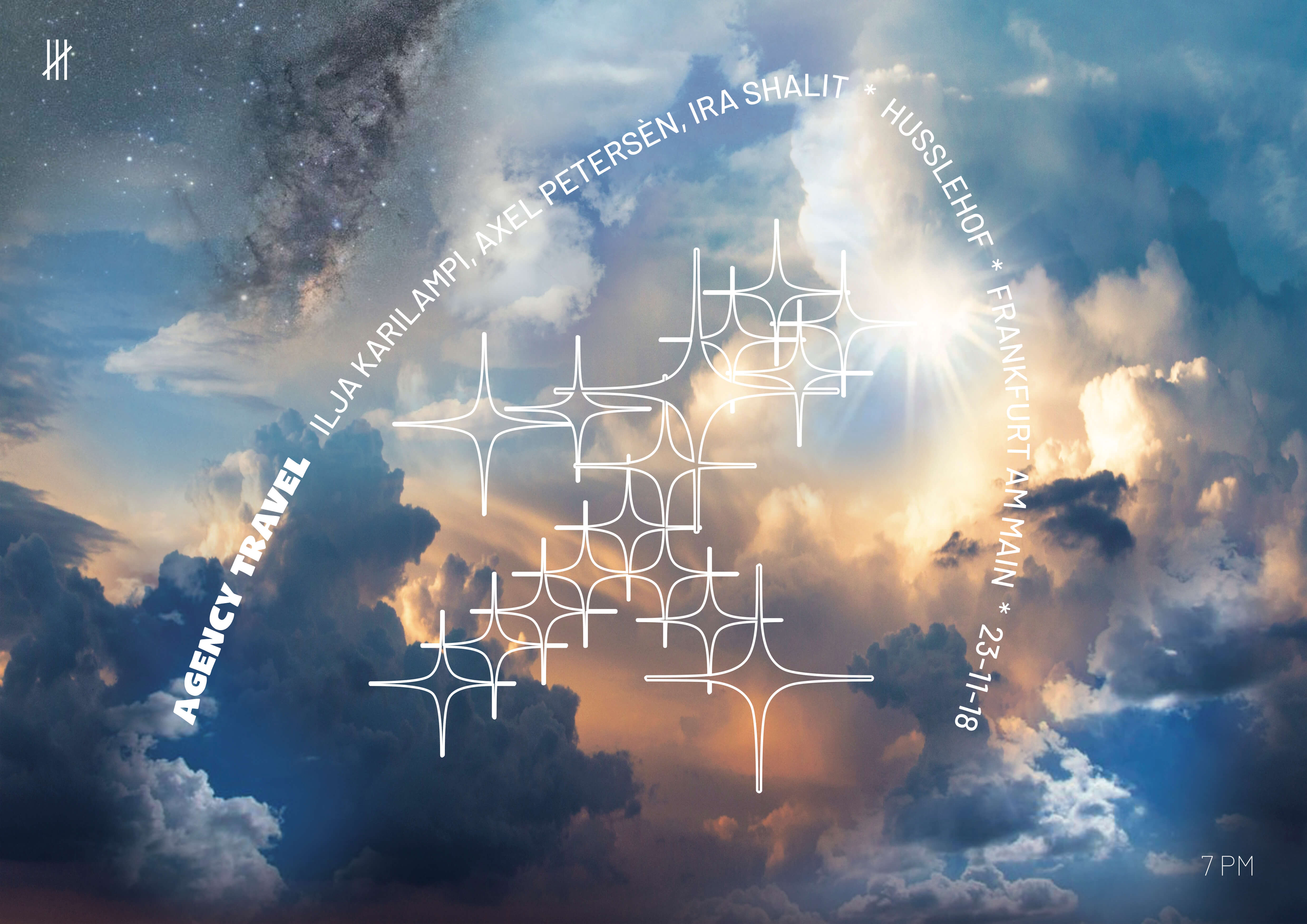 Ilja Karilampi, Axel Petersén, Ira Shalit
AGENCY TRAVEL
Opening
23.11.2018, 7 pm
Afterparty
23.11.2018, 10 PM – 3 AM
with IKU, Downtown Ilja & Vangee
at Le Meridien, Wiesenhüttenplatz 28-38
Exhibition
24.11.2018 – 20.01.2019
Open by appointment
A life-raft was purchased by the agency from a flat-earther who as boy learned to sail by the sea and now examines google-earth images for evidence of globe fabrication. The hawker saw enough, and gazes beyond the sea's subtle curved horizon.

Two major tropes of the traveller exist: a longing wanderer steeped in a sense of exile and his counterpart, the nomadic citizen of the world, who is at home everywhere. Artists are normally expected to conform to the latter, to practice their research from a suitcase with a laptop and intermittent Wi-Fi. In foreign lands, the artists should develop a routine of translating unfamiliar situations into future exhibitions. This approach to foreignness and unfamiliar constellations is by no means a marginal competence for contemporary artists but has become almost inevitable. This type of mobility dates further back than the current 'explosive growth' of artists' nomadic behavior. For all field-specific peculiarities one should not ignore the connection between the currently prevailing economic conditions of a capitalistic working world. It has become a commonplace that in the context of a gig economy, mobility has become, alongside flexibility, a "cardinal virtue" and the contemporary artist the ideal personification of this work-life-amalgam.

When conceptualizing an exhibition about travelling, not many cities are as fitting as Frankfurt. The city is a hub for motion: Pumping people through the city via rail and highway, the airport is the interface and entry point for so many visitors to Europe. Another form of flow gets created through the financial activities in the city, embodied in high frequency trades transmuted in a nexus of fiber cables and data warehouses. We go full circle, if we understand the mobility as a social and economic condition of artists and culture professionals and, at the same time, a vector of social and economic development.

One aspect of travelling should not be unmentioned: The internationality of the cultural and creative sector is not necessarily accompanied by a growing liberalization of border traffic. This form of free floating between cultures and countries is only granted to a limited group of people. Passports are the countries they open, they are a yardstick of how many privileges his or her holder can claim and automatically exclude people with passports that are regarded as less of an asset. Leaving a massive gap between the utopia of travelling and the reality of state borders and human migration. Even if certain groups are prohibited from participating in this flow, travelling has made a major contribution to our illusion of the world as a global village. Consequently, it comes as no surprise that many artists today are employing the language of travelling in their work. The spectrum of how artists are approaching this topic is manifold and diverse, but still there are certain clusters of shared interests or roles artists take on when they circle the topic.

The three artists that developed "Agency Travel" together with Felix Große-Lohmann represent the prototypical roles that artists take on when they create work in this complex constellation of global currents and multiple worlds:

Ilja Karilampi dives into the richness that the usage of an international language offers. He juxtaposes elements from public advertisement, music, fashion and nightlife for the viewer to decipher their origins and the hyper-meaning they create in their newly formed context. These symbols seem to be uncoupled from their place of origin; instead bound to one another through the rhythm of their flow and their formal resemblances. Separated from a specific place, they exude their own unique sense of 'authenticity'. The work plays with one of the main motors that make contemporary life to what it is: The www.

Counter-movements to this decontextualizing tendency include strategies of deceleration, positioning and symbolic territorializing which aim to make a concrete grasp of space possible again. In pursuit of this, some artists engage with the particularities of places, documenting as well as reinterpreting traditions and pictorial worlds. Ira Shalit is using his role as artist and curator in shedding light on the societal level. This pays tribute to the argument that art cannot and should not be obscured of the geopolitical nuances of its production, distribution, and reception. Therefore, Shalit merges and frees artistic fields in-between borders of cultural practices. His collages, computer drawings, radio shows and interdisciplinary curatorial projects, create walk-in situations that communicate microcosms or 1:1 models of places for the visitor to experience and experiment.

As a film maker and by incorporating elements of journalistic practice into his own artwork, Axel Petersén occupies another important role for current artists: This investigative approach combined with a flirtation towards an exoticizing glance leads to something that French ethnographer Victor Segalen would have described as: "(…) the task of defining and laying out the sensation of Exoticism, which is nothing other than the notion of difference". Here the jetset — airport coffee, safety on flight demonstrations and living on an airplane and out of a suitcase — is burning.

The artistic positions of "Agency Travel" oscillate between concrete and imagined perceptions of place, and through their narrative, new spaces are created. Referencing real places produces new ones, and borders are being continually overstepped only to be redrawn. Like vessels within a sea, the artworks come together, inviting the audience to participate in a dialogue, traversing the exhibition in a curiosity-driven voyage and hover between past and contemporary conditions, of fluid topographies and challenged
expectations.

Anna-Viktoria Eschbach

Anna-Viktoria Eschbach and Antonie Angerer are running I:Project Space in Beijing, China.
all photos Ivan Murzin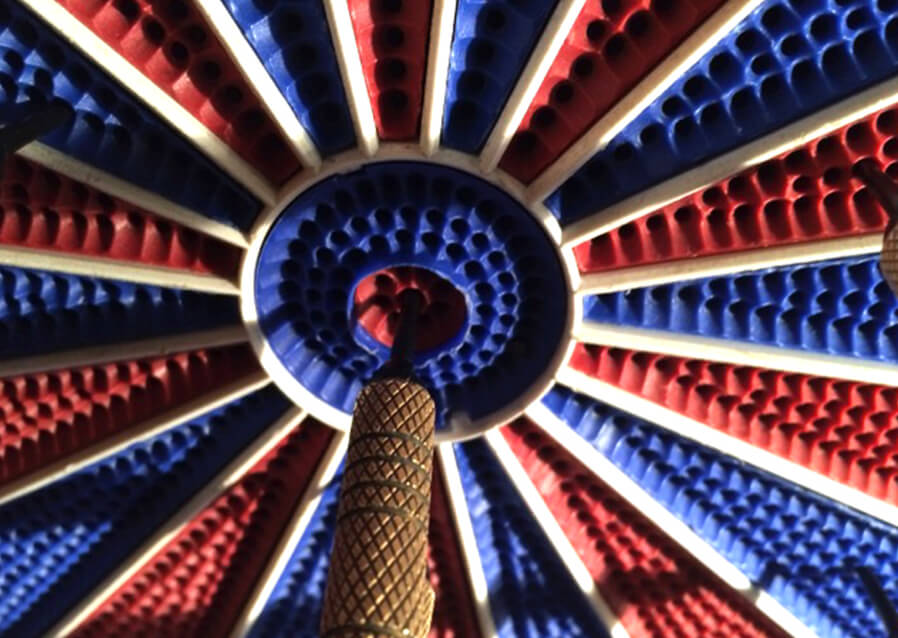 Kalin Lindena & Jo Dickreiter
Uptown
Opening
07.09.2018, 6 pm
Exhibition
08.09.2018 – 05.10.2018
Öffnungszeiten Saisonstart Frankfurter Galerien
07.09.2018, 18 – 22 Uhr, 08.09. & 09.09.2018, 11 – 18 Uhr
& nach Vereinbarung
Uptown – Zeichnungen erscheinen auf Papier, erschliessen Teile von Skulpturen und werden zum Ausgangspunkt von Malerei, welche skulpturale Elemente, Körper und Raum aus ihrer Dreidimensionalität befreit und intermediale Rezeptionssituationen schafft. Der Anfang einer endlosen Stadt.

Kalin Lindena und Jo Dickreiter haben zusammen in der Klasse von Walter Dahn an der Hochschule für Bildende Künste Braunschweig studiert, die Jo Dickreiter als Meisterschüler absolvierte. Kalin Lindena ist heute Professorin für Grafik und Malerei an der Akademie der Bildenden Künste Karlsruhe. Jo Dickreiter und Max Marion Kober betreiben den Ausstellungsraum Garage Johnny Guitar in Winden, Schwarzwald. Am Eröffnungsabend findet ein Konzert von Jo Dickreiter statt.
all photos Ivan Murzin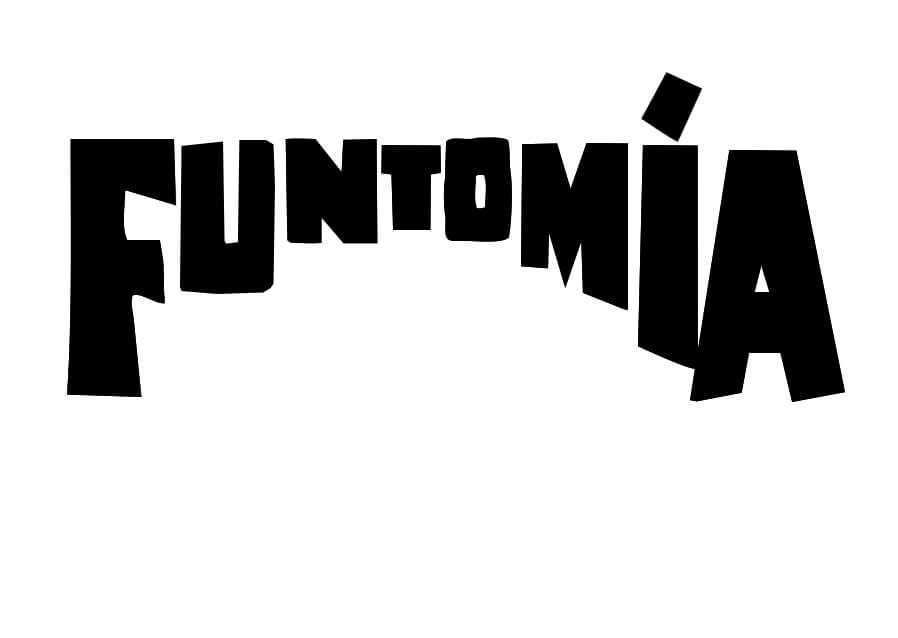 Bernhard Buff
Funtomia
Opening
20.07.2018, 7 pm
Exhibition
21.07.2018 – 24.08.2018
By appointment only
"Straining. The bow is tensed, the finger is touching the trigger. An object gathering in the moment before action. In this moment time expands, the present becomes tangible. The sculptures gather in that millisecond, their silent preparedness for action makes this tension the very material they are formed of."

Unknown, 2015
all photos Sean Yongxiang Li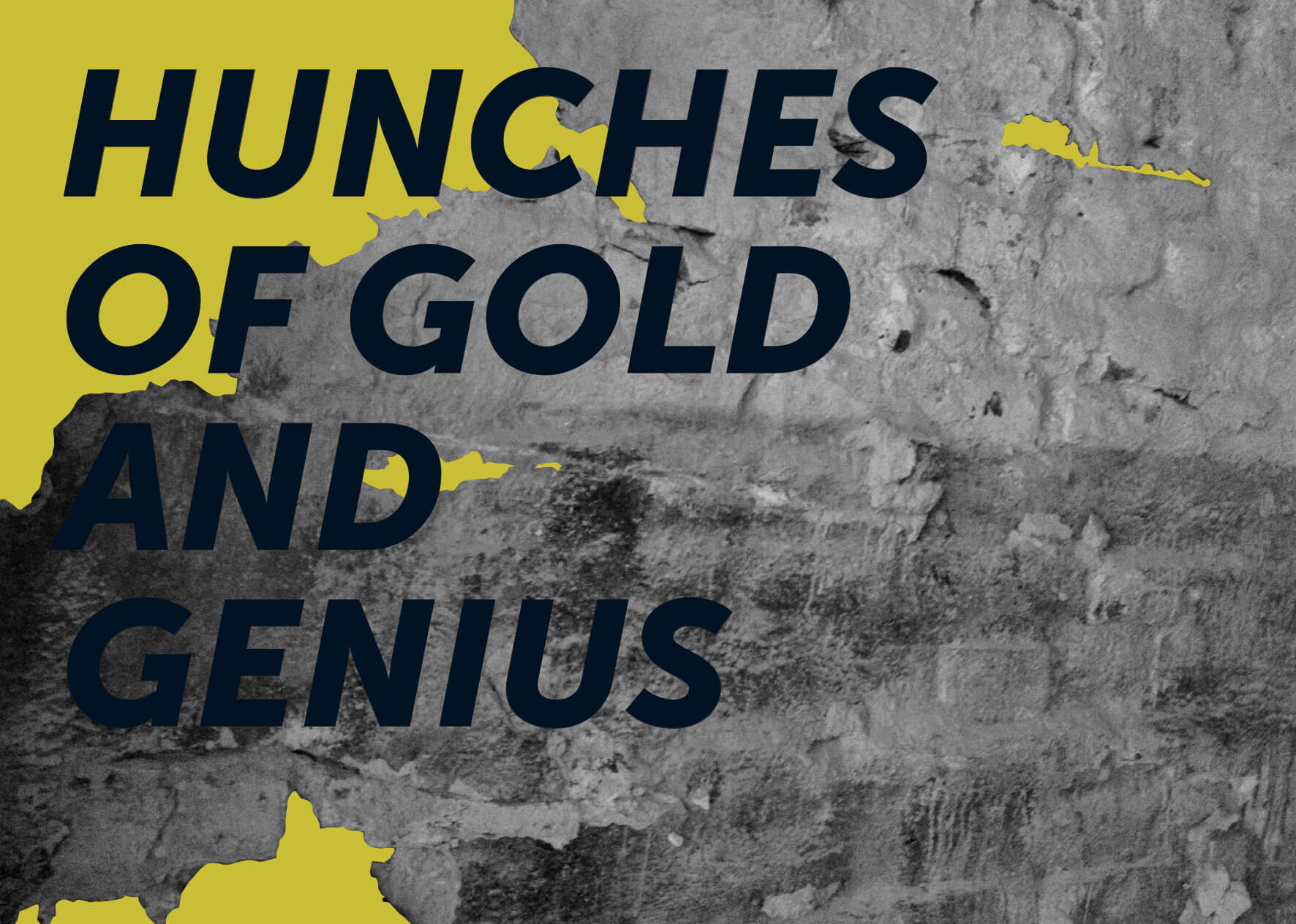 Inga Danysz, Maarten Van Roy, Nina Schuiki, Franziska Wildt, Alex Wissel & Jan Bonny
Hunches of Gold and Genius
Opening
19.10.2017, 7 pm
Exhibition
20.10.2017 – 19.11.2017
Opening Hours
Donnerstag, 18 bis 20 Uhr
Samstag & Sonntag, je 15 Uhr bis 18 Uhr
sowie auf Anfrage
Im Rahmen der Ausstellung Hunches Of Gold And Genius sind die KünstlerInnen Inga Danysz, Maarten Van Roy, Nina Schuiki, Franziska Wildt sowie Alex Wissel & Jan Bonny dazu eingeladen, auf die spezifischen Kontexte der für das Projekt kollaborierenden Ausstellungsorte Husslehof und SIKS e.V. zu reagieren. Durch ihre benachbarte Lage im Frankfurter Gallusviertel stellen sowohl der selbstorganisierte Ausstellungsraum Husslehof wie auch die Stadtteilinitiative SIKS e.V. jeweils jene Orte dar, in denen sich derzeit verschiedenste historische, sozioökonomische, subkulturelle und ästhetische Kontexte überlagern. Während ein Teil dieser Zusammenhänge offen zu Tage tritt, bleiben andere jedoch nur in ihrer verdeckten Existenz zu erahnen.

In einer Variante seines gängigen Sprachgebrauchs beschreibt das Verb "to hustle" einen Modus der konfliktbeladenen Anstrengung und steht somit für ein Improvisieren und kunstfertiges Agieren innerhalb widriger Umstände. Im Rahmen von Hunches of Gold and Genius werden diese von den KünstlerInnen sowohl als faktische Ausgangs- und Referenzpunkte genutzt wie auch spielerisch oder fiktiv in ortspezifischen Arbeiten aufgegriffen, um neuen Sichtweisen und Bedeutungsdimensionen nachzuspüren. Nicht zuletzt möchte die Ausstellung dabei in vielfältiger Weise die übergreifende und aktuelle Frage nach der Konstituierung der beiden Ausstellungsorte beleuchten und reflektieren.

Kuratiert von Christin Müller und Stefan Vicedom

Mit freundlicher Unterstützung von Kulturamt der Stadt Frankfurt und maecenia Frankfurter Stiftung
all photos Nathalie Zimmermann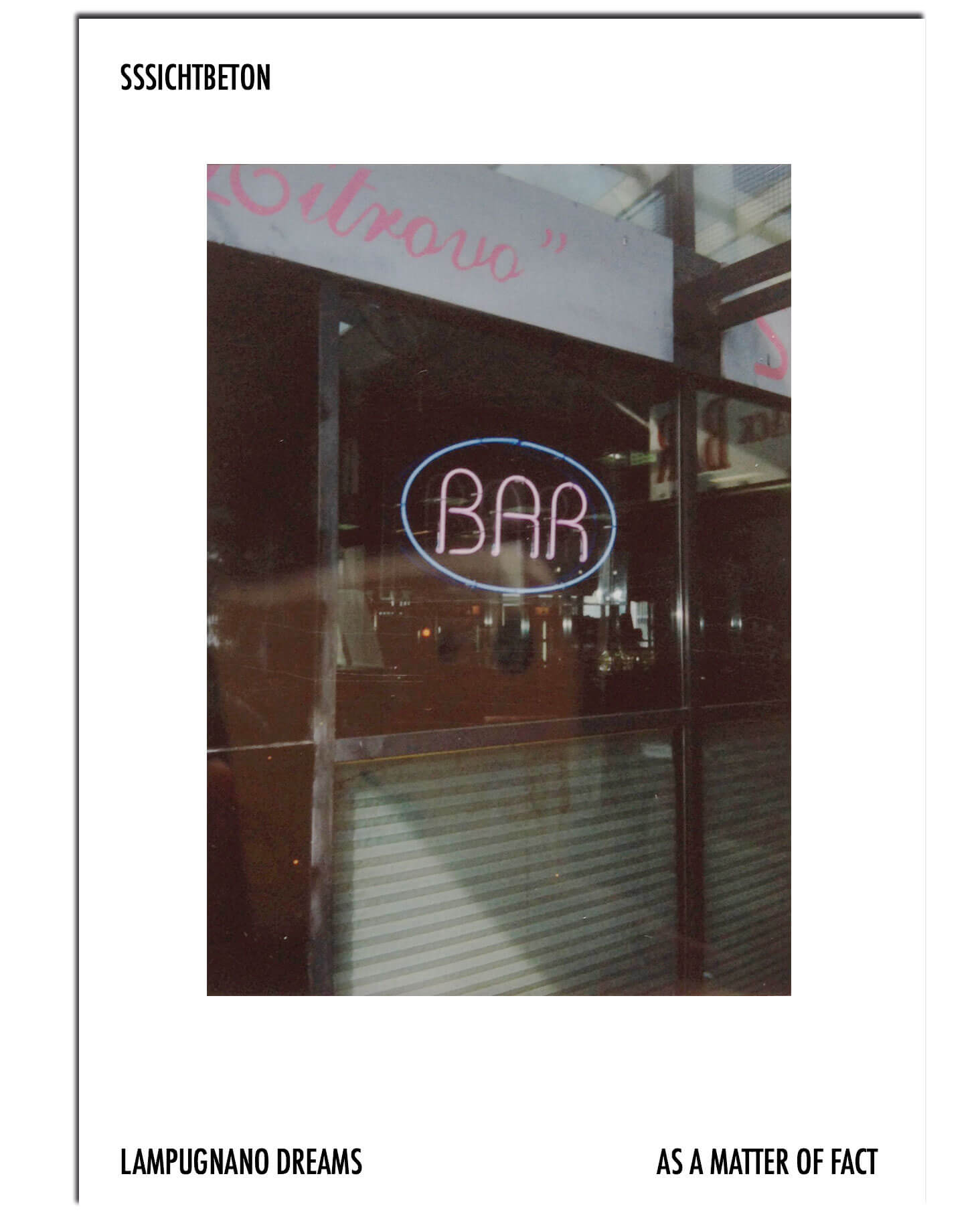 SSSICHTBETON
LAMPUGNANO DREAMS. AS A MATTER OF FACT…
Opening
17.8.2017, 7 pm
Exhibition
18.8.2017 – 18.9.2017
Opening hours by appointment
13. Koblenzer Straßenfest: 19.8.2017, 2 – 10 pm
Saisonstart Frankfurter Galerien: 8.9.2017, 6 -10 pm, 9.9. & 10.9.2017, 11 – 6 pm
Husslehof is pleased to invite you to its first exhibition with the artist duo SSSICHTBETON on occasion of the collaboration with Stadtteilinitiative Koblenzer Straße e.V. – SIKS. Due to the current situation of the social initiative SIKS and thus "to gentrify the gentrification itself" SSSICHTBETON challenge the dynamism and speed of contemporary economic and urban developments.

"It's not an option to stop making spaces interesting".

In Swedish there is this saying "don't walk like the cat around the hot porridge" that urges someone to speak clearly instead of beating around the bush. For years Sssichtbeton has skilfully been tap-dancing dangerously close to the pot, making reports from the world with the means of aesthetics, but always keeping a safe distance from calling themselves political.

"The only action we take is to make art, and the good thing about arts that you don't have to change, only to show".

But this time the invitation to the show brought the context and the duo is taking advantage from the political history the location and situation holds to point a finger towards the problems the citizens of the street faces in the wake of gentrification.

Here the word "gentrification" is the pot of hot oatmeal because artists are usually the first to arrive on scene when it comes to renewing and highlighting forgotten areas, and now, Sssichtbeton is here to gentrify gentrification itself.

The idea is to make a funny comment, sarcastic without being cynical, not activist but
"We would love to think that our work would literally change the world, but it's not works that change the world, it's people. We don't bring answers, nor advices, that's not our mission. But perhaps to change the way people look at it".

Nicolina Eklund

Mit freundlicher Unterstützung von Kulturamt der Stadt Frankfurt
all photos Wolfgang Günzel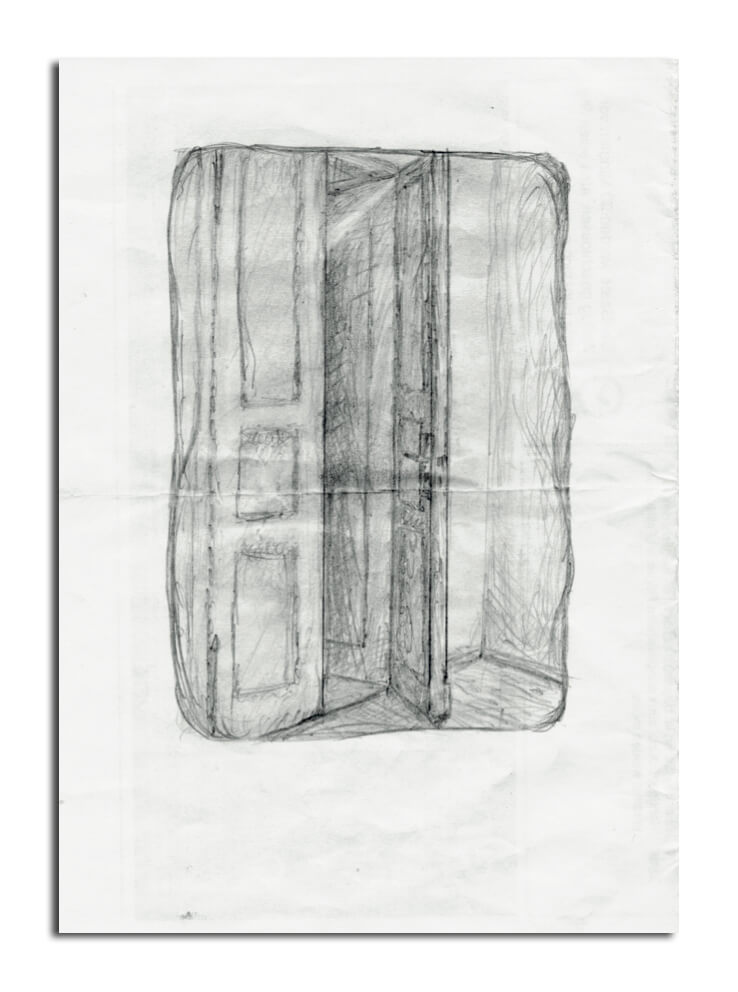 Philip Poppek
View, Wall, Door, Mirror, Wind
Opening
06.04.2017, 6 pm
Exhibition
07.04.2017 – 12.05.2017
Opening hours by appointment
View,
Manchmal wünsche ich mir noch ein Auge mehr
für den Goldenen Blick.

Wall,
Denn mit dem Goldenen Blick
sieht man Räume, da wo andere
nur eine Wand sehen.

Door,
Ich sage: Jeder offene Raum ist eine Illusion.
Denn Raum gibt es nur, wenn sich was schließt.

Mirror,
Ein Spiegel ist ein Bild,
höre ich dich sagen,
dem man im Weg steht.

Wind,
Und dann noch: Jeder geschlossene Raum ist ein Sarg.
Deswegen muss man ihn öffnen.

Image.
Jedes Bild: ein Silberblick auf die Welt.

Dominikus Müller
all photos Philip Poppek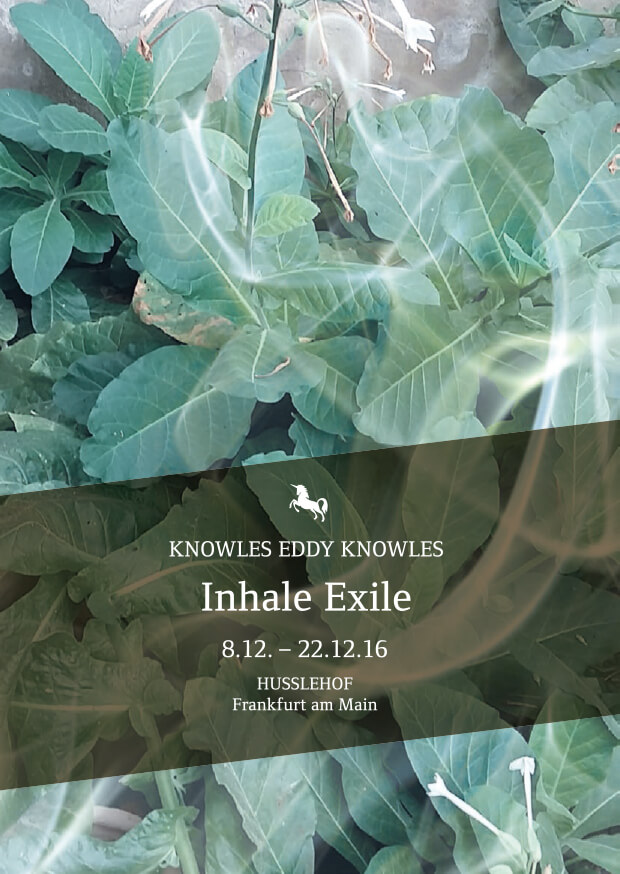 Knowles Eddy Knowles
Inhale Exile
Opening
07.12.2016, 7 pm
Exhibition
08.12.2016 – 22.12.2016
Opening Hours
Mo – Fr 2 – 5 pm
Inhale Exile is a curatorial project by the art group Knowles Eddy Knowles. It gathers a selection of the artists' ongoing archive on the culture of tobacco and invites the participation of a number of artists whose work has touched on the motif.

"(…) I think smoke has had its hay day so by by.
In the end I don't think allowing smoking extends creativity and conversation. The late 60s and early 70s were generally easy going – the economy was good, once the Vietnam war ended, even better – people felt free and optimistic and risk taking, playing with context and deconstruction was the order of the day." David Askevold in email correspondence, June 26th, 2006.
all photos Neue Linie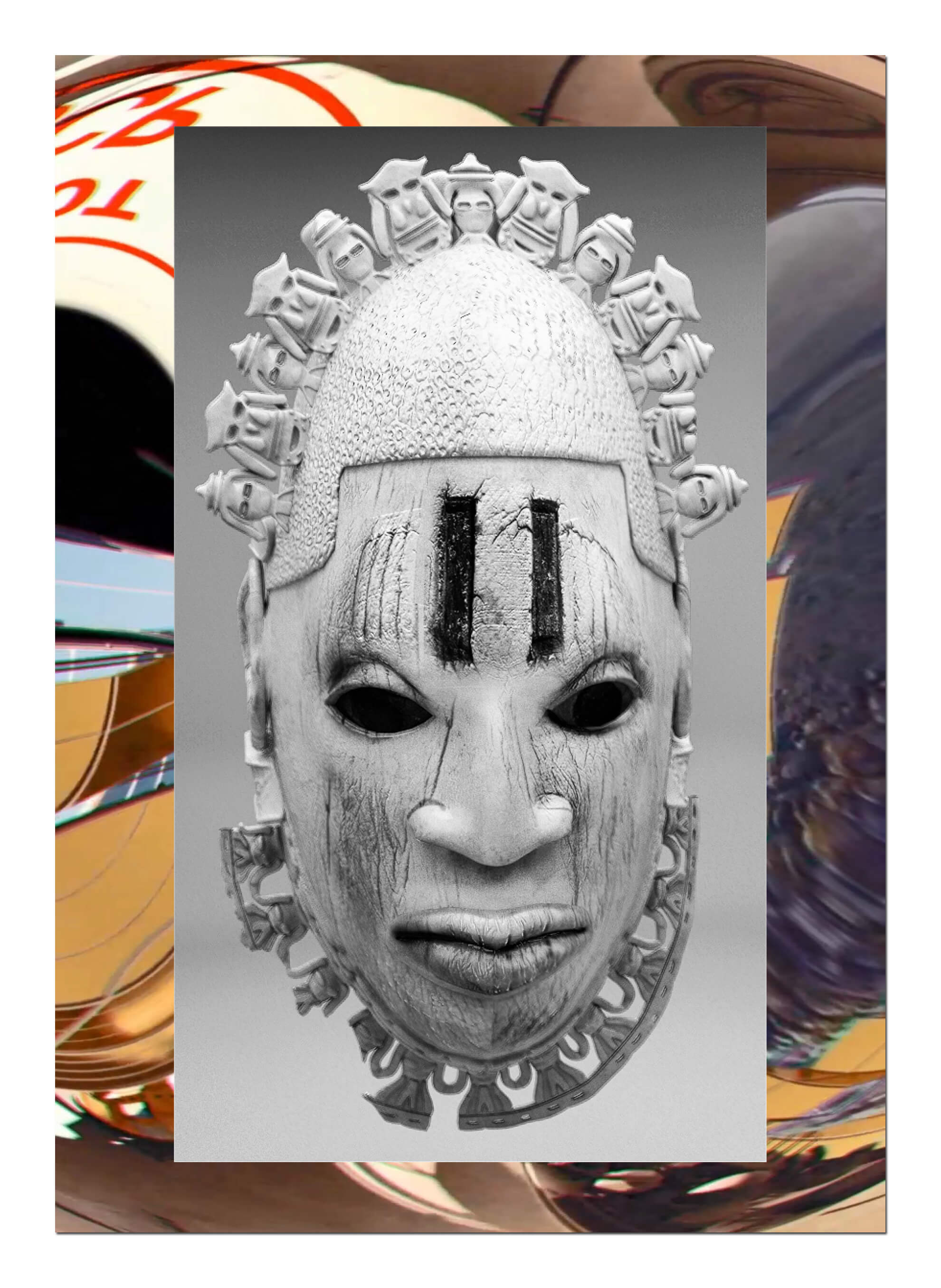 Vojtĕch Rada
Image Format Candyflip
c/o Katharina Baumecker
Opening
28.10.2016, 6pm
Exhibition
29.10.2016 – 25.11.2016
Opening Hours
Wed – Fr 5 – 8pm
Der in Prag lebende Künstler Vojtĕch Rada (*1991) erfährt auf der Suche nach kulturellem Austausch eine Selbsttransformation zu einem extraterrestrischen Astronauten. Seine Erfahrung mit der Filmindustrie Nigerias, genannt Nollywood, übersetzt er für die Ausstellung "Image Format Candyflip" in raumgreifende Arbeiten. Grundlage dieses Prozesses sind die handgemalten Filmplakate Nollywoods aus den 90er Jahren. Die Distanz zur nigerianischen Filmproduktionslandschaft führte ihn zu einem utopischen Kommunikationsmodell.
Im Rahmen der Ausstellung erscheint ein Künstlermagazin, dass Ausschnitte der Kommunikation zwischen Vojtĕch Rada und Filmproduzenten in Nigeria dokumentiert. Es eröffnet Einblicke in den Arbeitsprozess von "Exploring Nollywood", ein Projekt, welches der Künstler mit dem Vorhaben begann, technische Mittel und Fähigkeiten aus seinem Studium in Zürich der nigerianischen Filmindustrie anzubieten. Mit dem digitalen Raum http://www.vojtechrada.com/nollywood nutzt der Künstler das Web, um künstlerischen Austausch und neue digitale Technologien unentgeltlich anzubieten. Durch dieses neue Format des kulturellen Austauschs entstand ein kreativer Möglichkeitsraum im Web, der darauf wartet, genutzt zu werden.

Vojtĕch Rada (*1991, Prague), in search of cultural exchange, experiences a self-transformation into an extraterrestrial astronaut. For the exhibition "Image Format Candyflip" he translates his interaction with the Nigerian film industry, known as Nollywood, into a three-dimensional work. This process was inspired by the handpainted Nigerian movie posters from the 90s. The distance to the Nigerian film production landscape lead him to an utopian model of communication.
As part of the exhibition, an artist magazine will be published. It documents parts of the communication between Vojtĕch Rada and film producers in Nigeria and provides an insight into the working process of "Exploring Nollywood", a project that the artist began during his studies in Zurich, to provide technical resources and abilities to the Nigerian film industry. With the digital space Http: //www.vojtechrada.com/nollywood the artist uses the opportunities of the web to offer artistic exchange and new digital technologies free of charge. Thereby, developing a new format of cultural exchange.
all photos Peter Wolff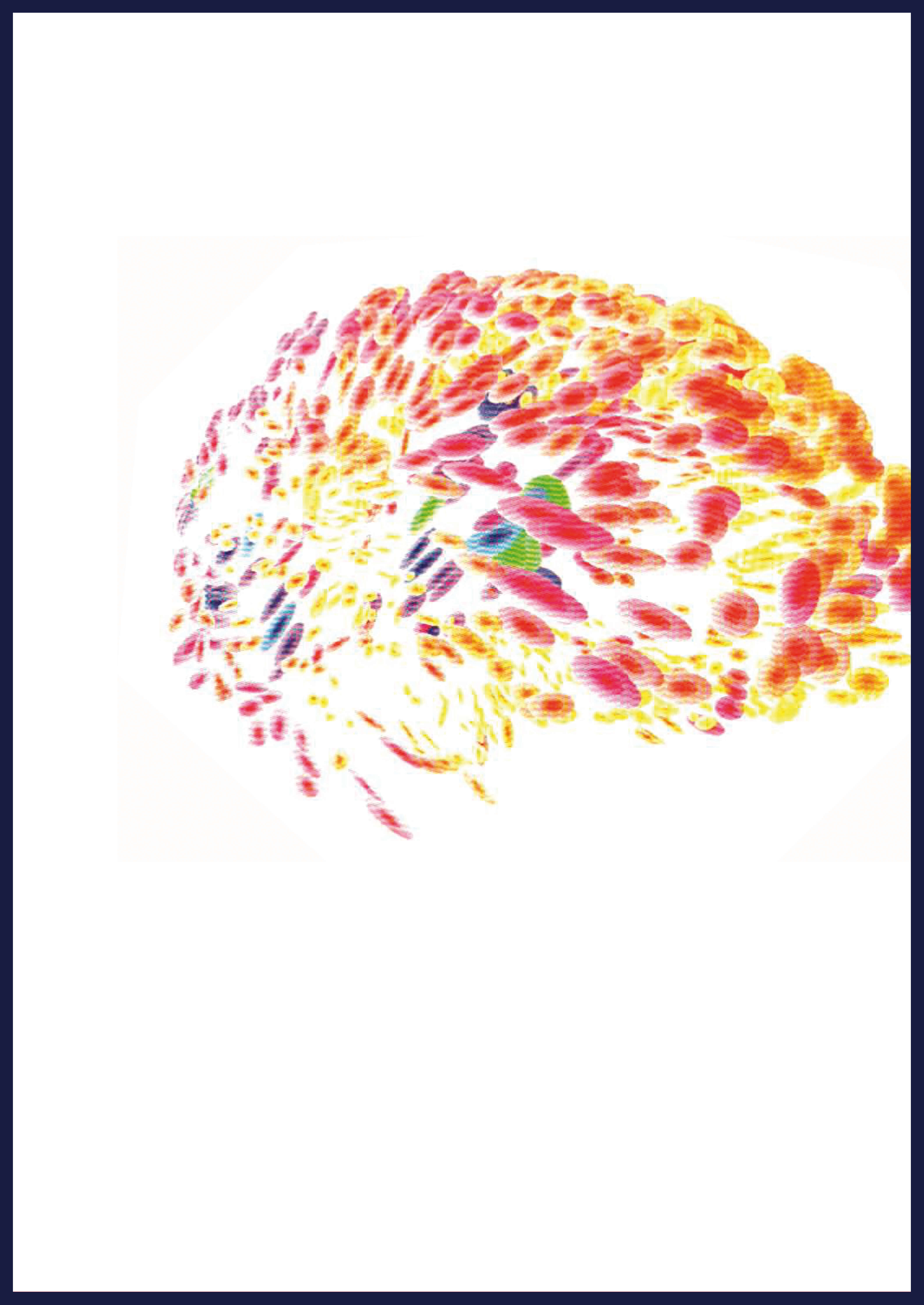 Jessica Sehrt
End of Pain?
Opening
15.09.2016, 7pm
Exhibition
16.09.2016 – 16.10.2016
Opening Hours
Wed – Fr 4 – 6pm
Künstler_innenführung am 06.10.2016
16:00 Uhr HUSSLEHOF Koblenzer Str. 12
Führung durch die Ausstellung End Of Pain? von Jessica Sehrt
Gespräch – Der Husslehof im Kontext aktueller Stadtentwicklung
17.00 Uhr HAUSPROJEKT NiKa Niddastr. 57
Vorstellung des Hausprojektes NiKa @ Niddastr. 57
18:00 Uhr ONE FOOT DOOR IN Mainluststr. 15
Führung durch die Ausstellung LIFE von Jessica Sehrt und Daniel Stubenvoll
Getränke und Ginseng Tee @ ONE FOOT DOOR IN
Workshop 15.10.2016
with Kerstin Stakemeier, Realism Working Group, friends and guests
Location: Exhibition "End Of Pain?" @ HUSSLEHOF Koblenzer Str. 12
11 am Workshop with Kerstin Stakemeier (Berlin),
Jeronimo Voss, Martin Stiehl, Jessica Sehrt (Frankfurt),
Felix Große-Lohmann (Frankfurt)
We will discuss central arguments of "REPRODUCING AUTONOMY – Work, money, crisis & contemporary art"
by Kerstin Stakemeier & Marina Vishmidt in the context of the exhibition.
Language of discussion: German/English
Participation is free, please register at:
hello@realismworkinggroup.org
Time schedule:
11 am_ text reading
12 am – 2 pm_ discussion with Kerstin Stakemeier
3 pm_ q&a with Jessica Sehrt
4 pm_ drinks & discussion
Husslehof freut sich Einblicke in die Arbeit von Jessica Sehrt und der Realism Working Group geben zu dürfen. JS arbeitet an der Schnittstelle zwischen Biowissenschaften, zeitbasierten Medien, Klanginstallationen und Malerei. Unter dem Titel "End of Pain?" verhandelt sie das Thema Reproduktion in Technologie, Biologie und Kunst. Die RWG stellt dieses Thema in den Kontext von gemeinschaftlichen Arbeits- und Wohnkonzepten. Die Ausstellung wurde unterstützt durch das Kulturamt Frankfurt.

Husslehof is pleased to show works by Jessica Sehrt and Realism Working Group. JS works on the treshold between natural sciences, time-based media, sound installation and painting. In "End of Pain?" the artist deals with reproduction in technology, biology and art, while Realism Working Group transfers the topic to the context of collective working and living concepts. The exhibition was supported by the culture department Frankfurt.

Mit freundlicher Unterstützung von Kulturamt der Stadt Frankfurt
all photos Jessica Sehrt & Daniel Stubenvoll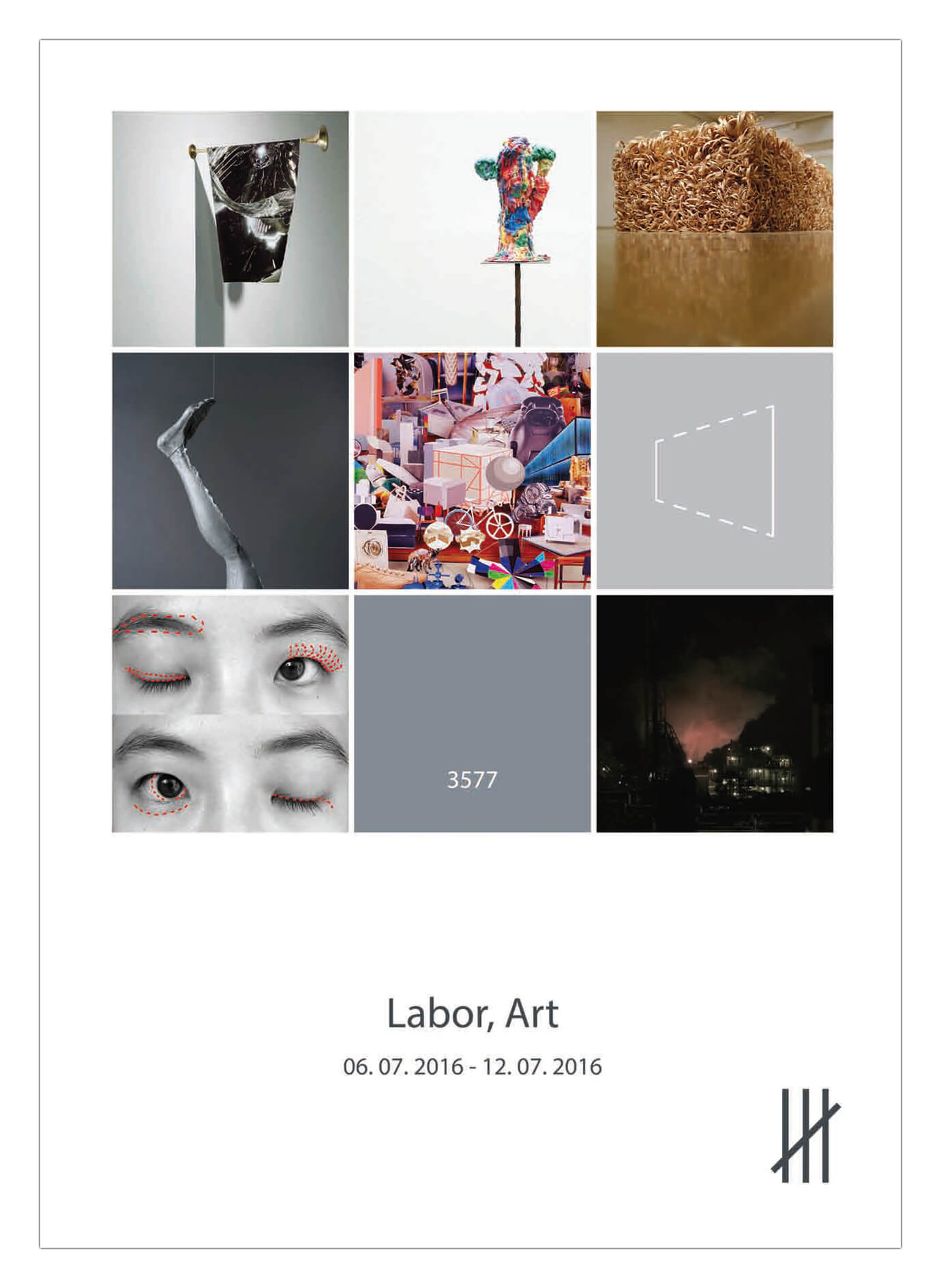 Donghee Koo
Haejee Kim
Hyungwoo Lee
Jina Park
Koon Kwon
Minji Nam
Osang Gwon
Yuri Yim
Labor, Art
Opening
05.07.2016, 7pm
Exhibition
06.07.2016 – 12.07.2016
Opening hours
Mo – Fr 4 – 8pm, Sa – Sun 12 – 4pm
as well as by appointment
Labor, Art is a group show with artists from the young history of contemporary art in South Korea. It is the second in a series of exhibitions, focusing on international collaborations at Husslehof, Frankfurt this year. "Unstable artists working in poor surroundings", "moonlighting for a living" and "uncertain pay standards for artists" are in fact old topics but still considerable by any means. The realities of creation and labor, institutionally unclear status of artists and the specificity of the art economy are the major talking points of this show. Is artwork considered labor? If so, by whom? Taking a more global approach at these matters can help us to understand artworks better and extend our imagination about possible relations of art and labor.

Curated by Namjoo Huh, who is currently studying curating and art criticism at Hongik University, Seoul, Korea.

The project was made possible with the support of Art Council Korea.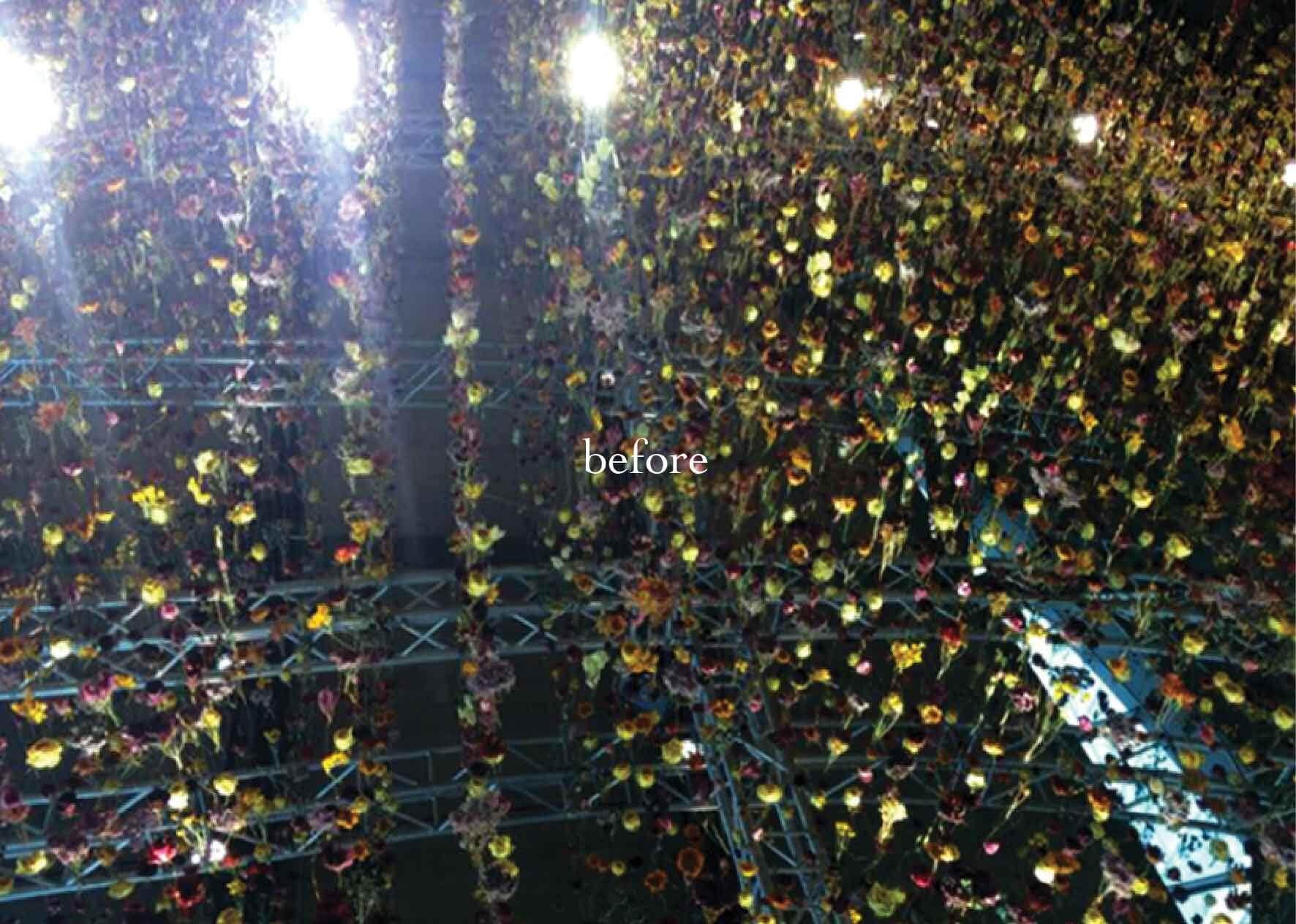 Stefan Cantante
Zoe Field
Mads Egeberg Hvidtfeldt
Soojung Kim
Yongxiang Li
Shaun Motsi
Ivan Murzin
Johanna Odersky
Vera Palme
Nadia Chen Perlov
Ada Raczka
Franziska Wildt
Judith Hopf
Before
Opening
29.04.2016, 7pm
Exhibition
30.04.2016 – 28.05.2016
Open by appointment
Before, is a collective video, film and exhibition project by students of the Städelschule Frankfurt am Main, which has been developed with professor Judith Hopf on invitation of the project space After the Butcher, showroom for contemporary art and social issues, Berlin and the support of Husslehof, Frankfurt.
The show follows the idea that different artistic approaches are not exhibited next to each other, but to animate them with each other. Using video, a new fictional place is going to be established: "a non space, an abstract anywhere, where gravity does not rule and time is on hold …".
The aim is to vary one's own work within the conflict zones of a group exhibition that may lay somewhere between assertiveness, difference or adaption of artistic works, in a common thematic voice-over and repositioning. Like the genre of comics, the different perspectives, time frames and the connected thought bubbles become addressed without beginning or end.
"No filming of discussion, no performing from our part – the works are the protagonists. First priority: the mediation of the works, to 'show' them to the audience and thus we will have all our works lifted on to the same platform, in one breath, a parliament of works, a family portrait of artistic concepts … "
all photos Ivan Murzin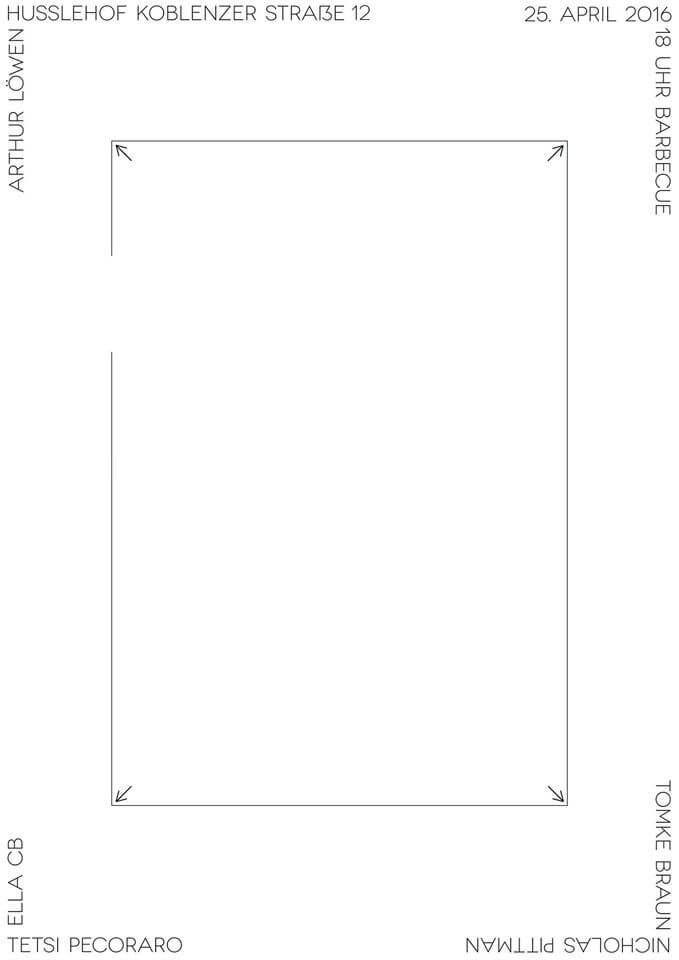 Tomke Braun
Ella CB
Arthur Löwen
Tetsi Pecoraro
Nicholas Pittman
Corners
Opening
25.04.2016, 7pm
Exhibition open by appointment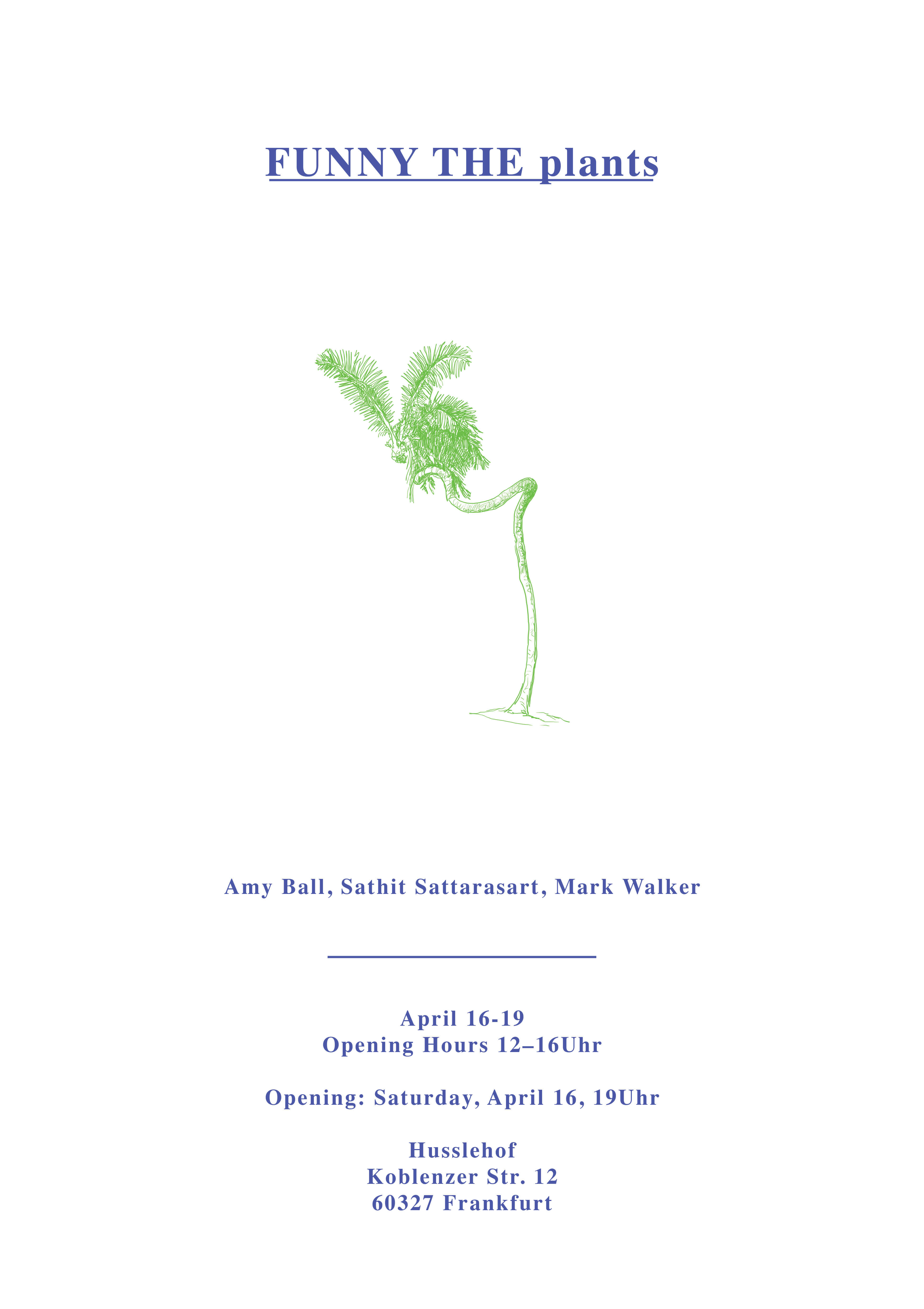 Amy Ball
Sathit Sattarasart
Mark Walker
FUNNY THE plants
Opening
16.04.2016, 7pm
Exhibition
16.04.2016 – 19.04.2016
Sa – Mo 12 – 4 pm, as well as by appointment
Husslehof is pleased to invite you to the first exhibition in 2016, with Amy Ball, born 1987 in Canada, Sathit Sattarasart, born 1979 in Thailand and Mark Walker, born 1988 in the UK. The group show "FUNNY THE plants" is the first in a series of exhibitions with a focus on international collaborations.
FUNNY THE plants is an ad-libbed shot at individual senses of humor – an exercise in whim, instinct and coincidence. It may seem for the light of heart, but perhaps that's worth having a go at – trusting your gut, so to say, and letting humor seep through at the end of what has seemed a very-long-winter. It's a bit the practice of saying "jah" instead of "nein", to each other and to ones self – heavy on the art therapy, maybe, or why not all just take it a bit easy.
AMY BALL
by Mark Walker:
Amy Ball is an indy artist from the gold mining town, the city of Dawson, in the Yukon. Where, some summers, she retreats to her exLaundry cabin to hang out in the Wilderness. Sometime I am not sure if Amy Ball is real. What she is and what she does is very familiar but somehow so close she is completely unconnected. In Amy Balls work the abstracted character, becomes more visible, but still keep a distance. In 'Thunder bang, bang lightning' She is photographers from behind at the seat of a full drum kit, in front of which is vast green plane stretching out forever, with a raging thunderstorm. A total dreamscape with lightening filling the bloody sky.
Another report stated that she was a very post human child.
With reality emerging, slowly, steadily, like a wine-stain working its way through wool, AMY BALL deals with this in a grinding, passive aggressive and down to earth work, she presented a mop, inscribed with the words 'Don't let the bastards grind you down.' turning the cleanly domestic activity into a fuck you to the man.
SATHIT SATTARASART
by Amy Ball:
It's difficult for me to say, if washing your hands with a bar of soap, etched with stencilled letters spelling out "d i s s a p o i n t m e n t", months after the exhibition has already ended, as the soap gets dirtier and dirtier and the letters less and less legible, is funny, or sad or self deprecating; but, maybe it's all of those things, or some combination of them. And maybe, that's where Sathit Sattarasart exercises his humour. Take his recent show at 1822 – there is absolutely nothing Funny about it at first glance, i.e – you'd be lying to me if you said you walked down Fahrgasse and lol'd to yourself the way you might if you were a bit hungover and making your way home reviewing the events which lead up to you feeling the way you felt right then. But then again, if Sathit really is doing, as his long time collaborator, Julia Schwadron, (they sometimes pretend to be each other) says he is doing: "deconstruct(ing), while simultaneously reconstructing, the language, the terms…the stakes and their use-values; poking with a gentle prod…at what is most violent or tragic or corrupt by building a quiet pile of elements, ingredients and ideas…in order to undermine their own context…" then maybe, you might not lol to yourself but instead keep in a sort of light chuckle, visible only to passerby's by, by a slight change in your grin. Maybe, a clean and simple plywood table (size wise like a regular north american dining room table) with white light emanating from under it, in a staunch white room with a big store front window on a wacky little street with antique furniture shops and designer goods you can't afford, commercial galleries you don't understand the clientele of, and up-and coming hipster hot spots – is doing exactly that: "poking with a gentle prod". And for me, if I think of it that way, it is kind of funny…
MARK WALKER
by Sathit Sattarasart:
Mark Walker seriously operates in a world of humour. The things he makes, make sense in a way that I would question myself twice or maybe thrice, as if I took a wrong turn off the Autobahn. My experience of Mr. Walker's art objects is like walking along the sea shore during magic hour, and suddenly finding a whale that's been hit by a car and then realizing that it's not an ocean, its a lake. Maybe I really took a wrong turn. Mr. Walker finds himself working between languages and objects. Language plays a big part in his works, all the way from the titles to the recognition of objects. His titles can be somewhat melancholic, except the one that he accidentally butt-typed with his phone. It is the greatest butt-typed title ever created (if I could butt type this intro about Mr. Walkers work as well as his butt-typed title, I would do it). Then everything comes together – weird words followed by his absurd and odd objects – creating a good twisted contrast. Mr. Walker leads us somewhere with his work and unexpectedly we end up somewhere else with him; like his broken speaker that failed as a bookshelf and barely has the function of a light which works like a heater without producing heat. Once he said that his joke has already petered out, but that seems not to be the case. Currently Mark, as we call him, grows his bushy beard, and lives and works in Berlin. Sometimes he is spotted in Frankfurt am Main setting free ceramic monkeys from souvenir shops.
all photos Viviana Abelson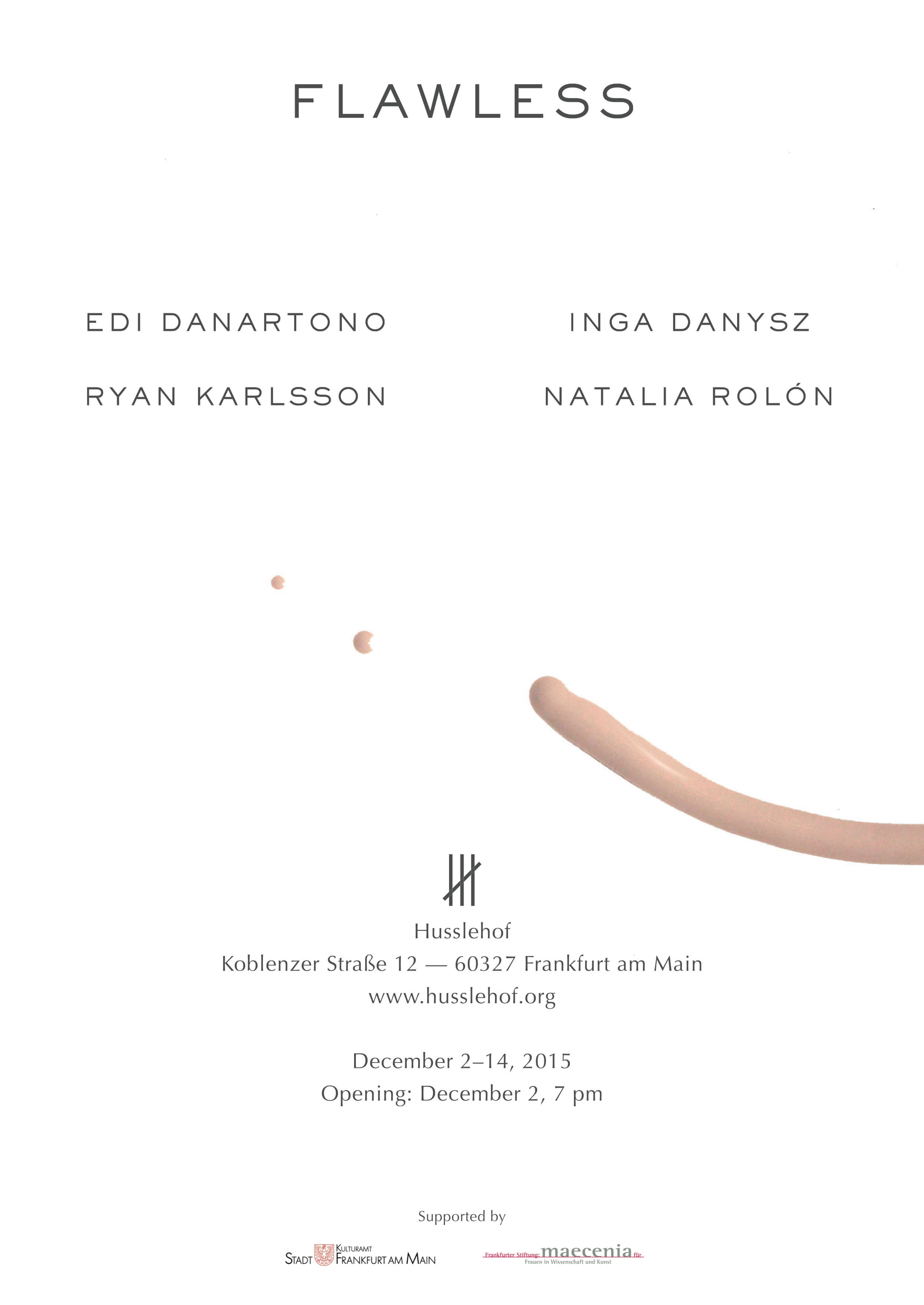 Edi Danartono
Inga Danysz
Ryan Karlsson
Natalia Rolón
FLAWLESS
Opening
02.12.2015, 7pm
Exhibition
02.12.2015 – 14.12.2015
Mi – Fr 6 – 8 pm So 2 – 6 pm as well as by appointment
"The Skin I Live In" (La piel que habito) is the title of a Spanish film by Pedro Almodóvar from 2011. In this thriller, a plastic surgeon cultivates an artificial skin resistant to burns after his wife was badly burnt in a car crash and commits suicide, because she can't stand her own appearance. He is testing his invention on a young woman named Vera, who he keeps in his house and has a sexual relationship with. Vera was once a man transformed into a woman by the surgeon, with the face of his former wife. The thriller's plot is built around the skin as a metaphor for human vulnerability and identity highlighting the importance of skin in relation to our image.
The skin is our shield. When we get injured, its fragility becomes visible. At the same time it can be a prison that we are trapped in; especially when we don't feel comfortable inside it. This may be because of it's color, it's gender, it's age or because of blemishes. For decades the industry has recognized it's importance, which seems to grow everyday, when looking at digital and social media.
The web is not only full of commercials for products, promising a flawless look, it is also replete with Make-up and Beauty tutorials: How to contour and highlight your face like Kim Kardashian, female-to-male make-up transformation (or the other way around) and even race change make-up transformation. Make-up has become the most powerful tool when it comes to creating our superficial persona.
In highly glossed videos (mostly) women from all over the world reveal their beauty-secrets, talk about their skincare routine and teach us how to enhance our natural beauty. It is the natural look, that rules. Flawless, glowing, dewy skin is a must have. In many campaigns 'imperfect' is claimed to be the new perfect. Winnie Harlow became an icon of this movement. The model suffers from vitiligo, a chronic skin condition characterized by parts of the skin losing it's pigment. Despite having what would traditionally have been considered a flaw Harlow has experienced much praise and success as a model.
One highly utilized substance in cosmetic products is silicone. Cyclomethicone, Dimethicone or Amodimethicones as it appears in shampoo, body lotion or foundation; making hair shiny and skin smooth. Silicone is a synthetic material that is often used to imitate skin, thus is it used in the production of sex toys and dolls. The exhibition FLAWLESS is taking a look at the skin as a projection of capitalistic and medial ideas of beauty, gender and ethnology.

Curated by Elena Frickmann

Mit freundlicher Unterstützung von Kulturamt der Stadt Frankfurt und maecenia Frankfurter Stiftung
all photos Inga Danysz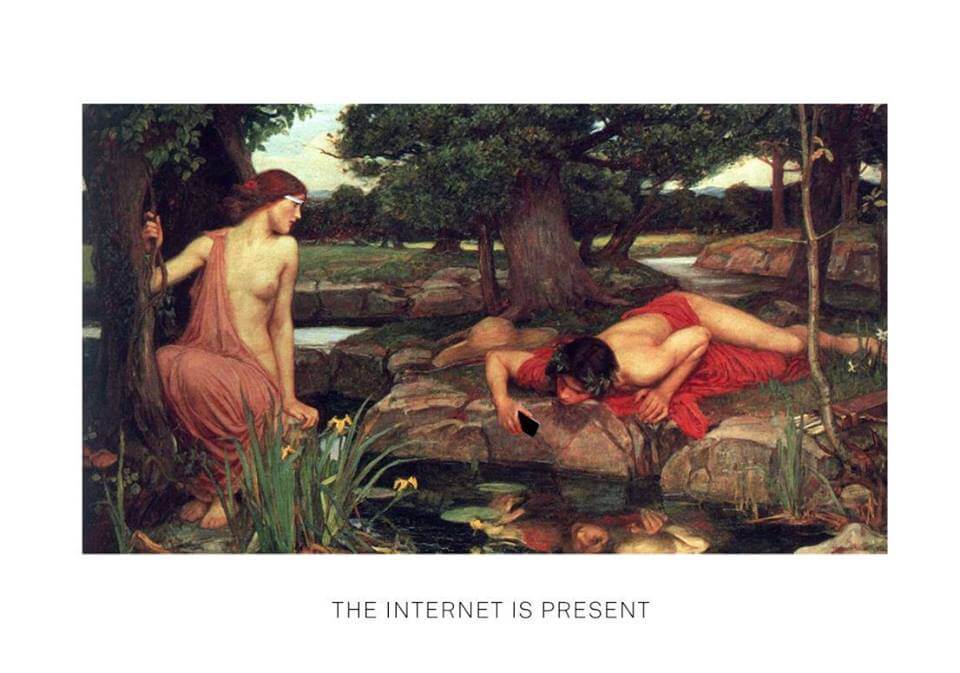 LaTurbo Avedon
Killian Loddo
Pinar + Viola
Pussykrew
Eva Papamargariti
Tine Günther
Sucuk & Bratwurst
Theo Triantafyllidis
Gergo Kovács
Leonie Döpper
Katrin Krumm
Florian Mecklenburg
Sebastian Zimmerhackl
Manuel Rossner
Ruiné
The Internet is Present
Opening
20.11.2015, 8pm
Exhibition
21.11.2015, 8 – 11 pm – 22.11.2015, 2 – 6 pm
as well as by appointment
all photos Sucuk & Bratwurst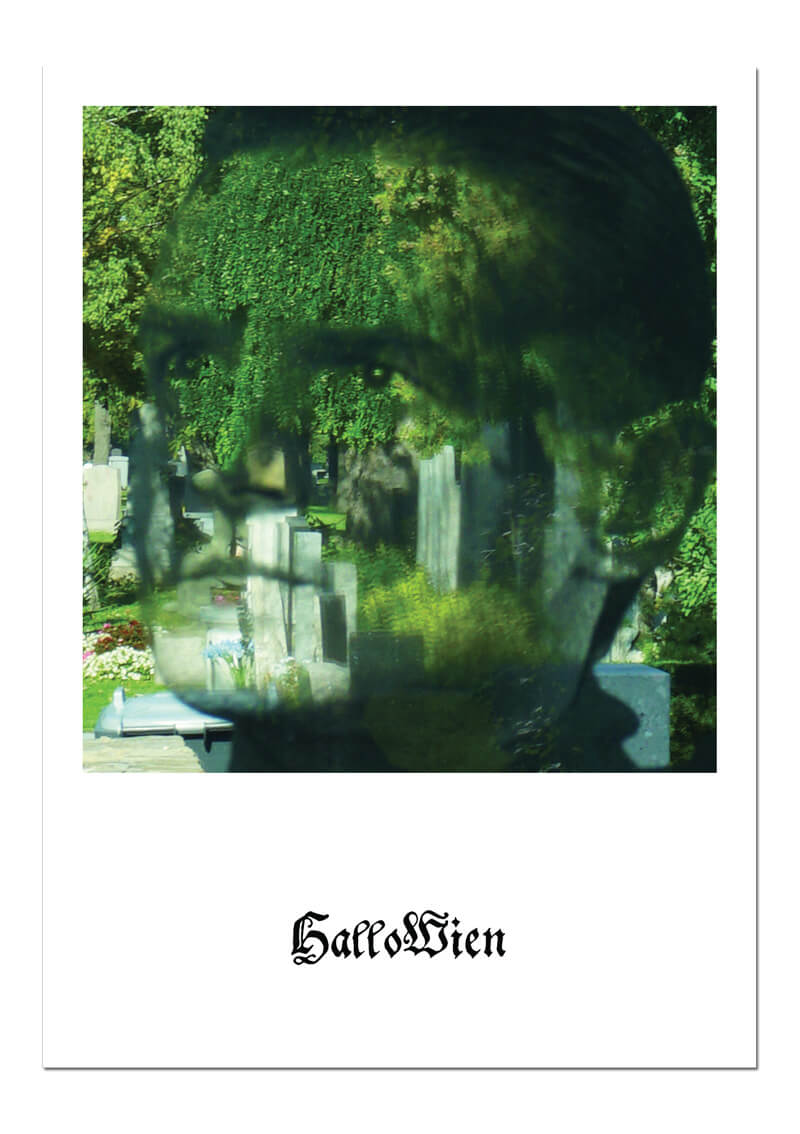 Anna Schachinger
Minda Andrén
Viktor Henderson
Anna Rettl
Bernhard Buff
Mathias Franz
Laura Hinrichsmeyer
Marek Kochanowicz
HalloWien
Opening
30.10.2015, 7pm
Exhibition
31.10.2015 – 14.11.2015
Mo – Fr 7 – 9 pm as well as by appointment
WORKFORCE FLACCID(#1-#8)
Stated below a list of eight nameless members, coming together for the first time, giving you a handful of introductory lines about what materials they are made of. Staging their characters only with an undefined screenplay at hand. Tricking each other into a togetherness, into unbearable dynamics.
The following enumeration is solely based upon loose teeth, loose tongues.
#1
Repeating evaluation on the subject, coalition between the receiver, sender and media. Where media becomes the receiver, recorder and player. The interviewer gets interviewed by media and herself. Talking head form, we establish an idea of a person transcending, a caricatured image of the human, pop and void.
#2
Straining. The bow is tensed, the finger is touching the trigger. An object gathering in the moment before action. In this moment time expands, the present becomes tangible. The sculptures gather in that millisecond, their silent preparedness for action makes this tension the very material they are formed of.
#3
color, form, eyes
shapes, movement, bodies
crack, mood, breast, dance
dance, dance, dance
(Artur Sand)
#4
He is carrying a lot of signs and is still surrounded by dyslexic. Playing for the high one and dancing with the devil… the pleasure is to play the game!!! Still try to read the signs? Searching the map for the ace of spades? You just missed the joker in front of you!
#5
Before I got to know you, you were already part of a bigger entity. The happy dualism making it harder to distinguish. You are a far fetched objet trouvé to me. With your partner in crime to your left, you are walking, the height of your shoulders matching perfectly. Constantly mapping each others bodies with some sort of superhuman mega awareness, rendering your textures. You're getting closer to the canal now and its incorporated liquids. Your taste buds are busy registering the sudden raise of adrenaline. The bodies leaning against you from both sides, carrying their torsos more sloppily, falling one after the other into dirty black water, leaving you standing alone. Finally I come close enough to see; You wear you hair italian.
#6
…still sailing on the dazzling sea, one eye chasing Moby Dick, causing us to flee one eye on the shore, may you leave an open door? Too many tries with unknown success, still sailing. Too many wishes… mute receivers, still transmitting over the sea, over the shore, may you leave an open door?
#7
Our days are numbered, and it's getting darker. Time is slipping by, but time moves backwards, so it's ok. You're standing tall still, moving in circles on the ground and in the air. Mmm, back and forth, round and round, with a razor sharp tongue speaking only in pictures but sometimes also in words, leaving crop circles in our heads as proof.
#8
K: Hey who the fuck is this?
M: …it's just me…
K: What are you doing in my mansion. You know you're not supposed to be here.
M: I know. I`m sorry. I wanted to see it with my own eyes – the skeleton palm trees… the drippings of black liquid…I wanted to smell your sweet odor…touch the grungy hair…
K: You are pathetic! … you're not ready yet. Come back in some years!
M: No wait, please, one last question; is it true, that you still pin needles into the skin of people…chosen people? They all say, they are healed afterwards. How do you do that…who are you really?
K: (Kal Vilmer took the lute in her arms, stroked gently the shiny wood and opened her yellowish green eyes) if you have to know – I am the daughter of the sun, soaked with radiant light and heat… human photosynthesis…you won't understand… You have to leave now!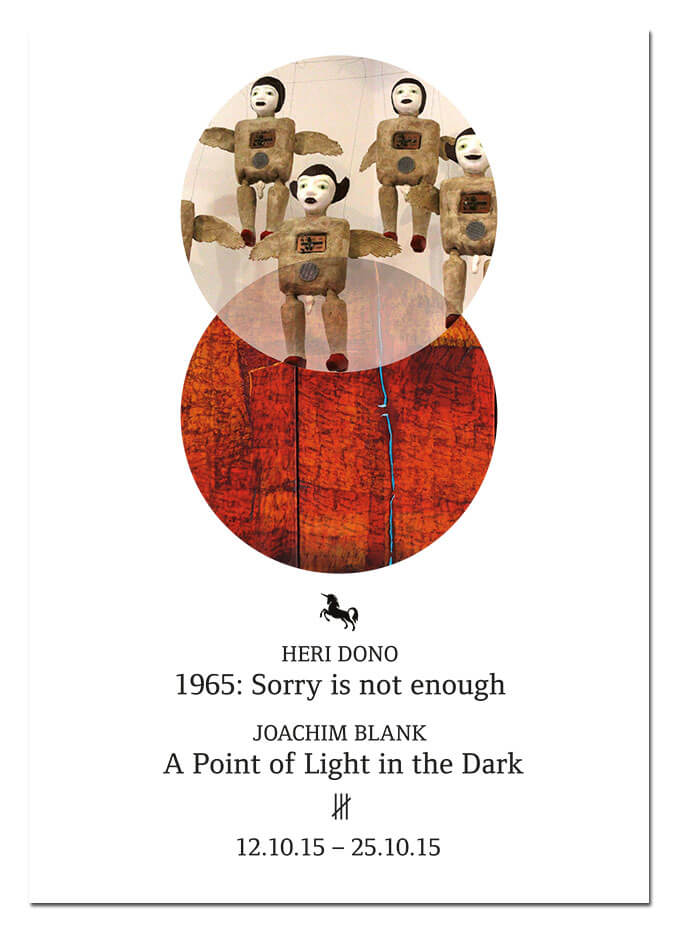 Heri Dono / Joachim Blank
1965: Sorry is not enough / A Point of Light in the Dark
Eröffnung
11.10.2015, 16 Uhr
Ausstellung
12.10.2015 – 25.10.2015
Mi – So 18.00 – 20.00 Uhr
sowie nach Vereinbarung
Das Soziale Museum präsentiert in Kooperation mit dem Ausstellungsraum Husslehof zur diesjährigen Buchmesse mit Indonesien als Ehrengast zwei zeitgenössische Einzelpositionen: Heri Dono und Joachim Blank. 1965 kam es in Indonesien während eines Militärputsches zu politisch und ethnisch motivierten Massenmorden. Bis heute fand keine Aufarbeitung statt. Mit "1965: Sorry is not enough" präsentiert Heri Dono Werke seiner jüngeren Schaffensphase. Gezeigt werden Gemälde, Installationen, Skulpturen und Performances, die Widerstand zum fundamentalen Prinzip der Kunst erklären.
Joachim Blanks: "A point of Light in the Dark" bezieht sich auf die Übersetzung des javanesischen Wortes `Batik`, jene traditionelle Technik der indonesischen Kultur, die Blank in zeitgenössischer Form verwendet; so entsteht eine freie, textile Kunstform.
Der Projektraum Husslehof, Koblenzer Straße 12, versteht sich als Plattform für künstlerische und kuratorische Experimente. Die zwei künstlerischen Positionen von Dono und Blank fügen sich in die Reihe "Husslehof – Duoshows". Träger des Sozialen Museums ist Leonhardi Kulturprojekte e.V.. Seit 2006 werden regelmäßig Positionen "Verletzbarer Gesellschaften" vorgestellt und diskutiert.
The Social Museum and the exhibition space Husslehof are pleased to present two solo-positions: Indonesian artist Heri Dono and Berlin-based artist Joachim Blank. A military coup in Indonesia, lead to a politically and ethnically motivated mass murder in 1965. Untill today, no historical and social work-up took place. With "1965: Sorry is not enough" Heri Dono presents his more recent works. On display are paintings, installations, sculptures as well as performances, which proclaim resistance as a fundamental principle of art.
Joachim Blanks "A Point of Light in the Dark" refers to the translation of the Javanese word Batik, a traditional technique of Indonesian culture that Blank uses in his own contemporary way; the result is a free, textile art form. The project space Husslehof, Koblenzer Straße 12, is a platform for artistic and curatorial experiments. The two artistic positions of Dono and Blank continue the series "Husslehof – Duoshows". Leonhardi Kulturprojekte e.V. is supporter of The Social Museum. Since 2006, positions about "vulnerable societies" are being presented and discussed.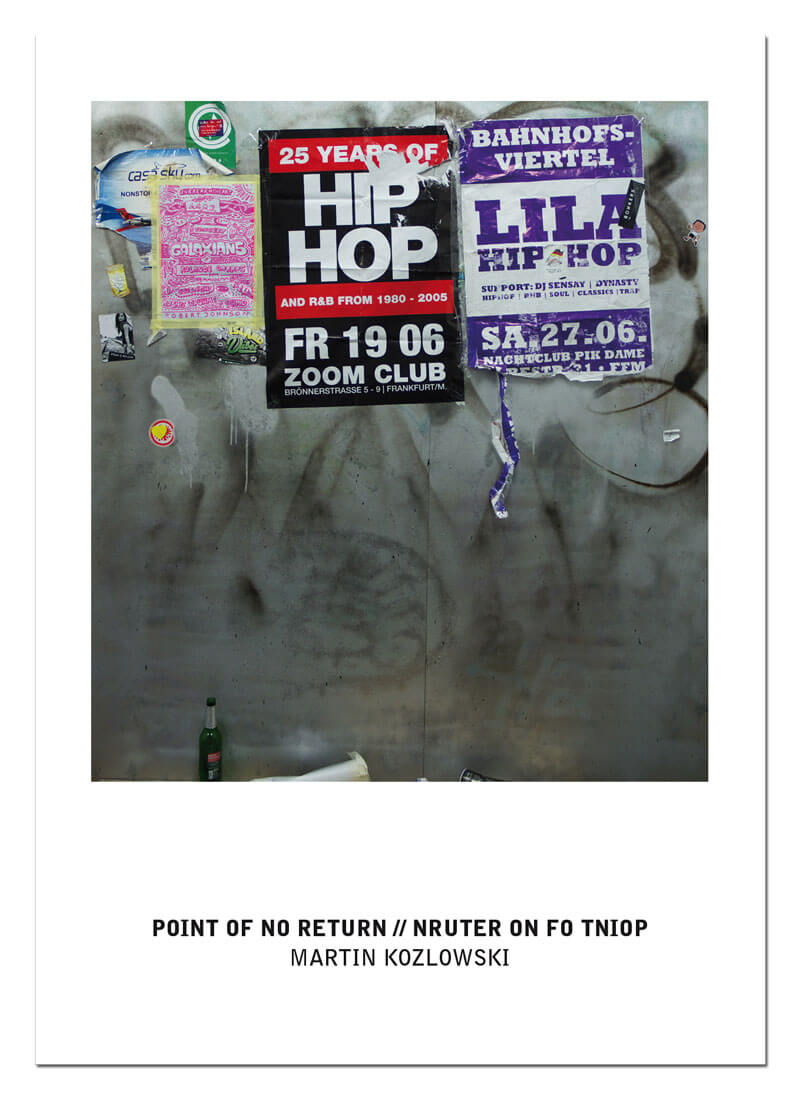 Martin Kozlowski
Point of no return // nruter on fo tnioP

Opening
14.07.2015, 7 pm
Exhibition
15.07.2015 – 28.08.2015
Wed – Fri 6 – 8 pm
as well as by appointment
Space works. Some think about their past, present and future when they turn their heads to the stars. "They say that every atom of our body was once part of a star" (GATTACA). Martin Kozlowskis works often question or reinterpret perceptions of his own past and present, as well as questioning the medium of painting itself. His method of working has similarities to a therapeutic process, reflecting and restaging situations he does not fully understand. In his exhibition "Point of no return // nruter on fo tnioP" at Husslehof, urban structures can be seen as the connecting element between two mediums, painting and sculpture, as well as the source of inspiration for the two pieces on show. Lately, the focus of Martins practice has been on creating a bridge between painting and sculpture, in order to combine the two as a middle ground. The ambition for the exhibition was to create a rather sparse environment with just one large work per room, which would be as much sculpture as it would be painting.
The outside of Space Box No.1, marked with seemingly random graffiti, provokes associations with an urban structure, located in a public space, similar to where youths growing up in the city would have important experiences, like smoking a first joint or getting a first kiss. By creating the illusion of infinite depth on the Space Painting, which is built into the boxlike object, serving as both frame and sculpture, the aim is to trigger a cinematic relation to space in the viewer, playing with escapist tropes. The Space Painting in this sculptural frame can be seen as a metaphor for infinity, endless possibilities, yet also staging a "point of no return", where things, actions and time irreversibly disappear into a void. Childhood, objects, friends, pain, the box itself, the now. Spacebox No.1 iconically represents the vastness in this universe of possibilities. Piff, a cutout of a former space painting, in the shape of a graffiti piece, combines attributes of sculpture and oil painting and even aspects of graffiti and painting in one work of art. All spaces become connecting elements in this show.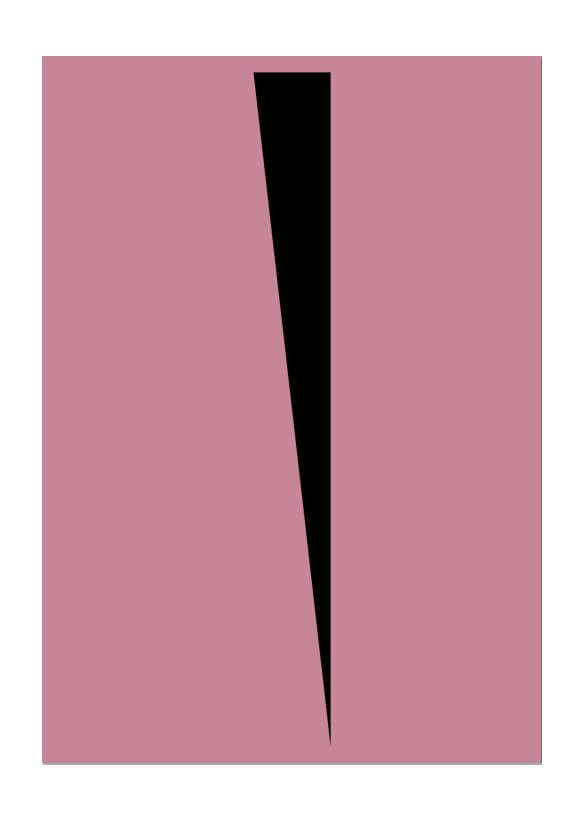 Husslehof
1/2 Year Anniversary Celebration
04.07.2015, 2 – 11 pm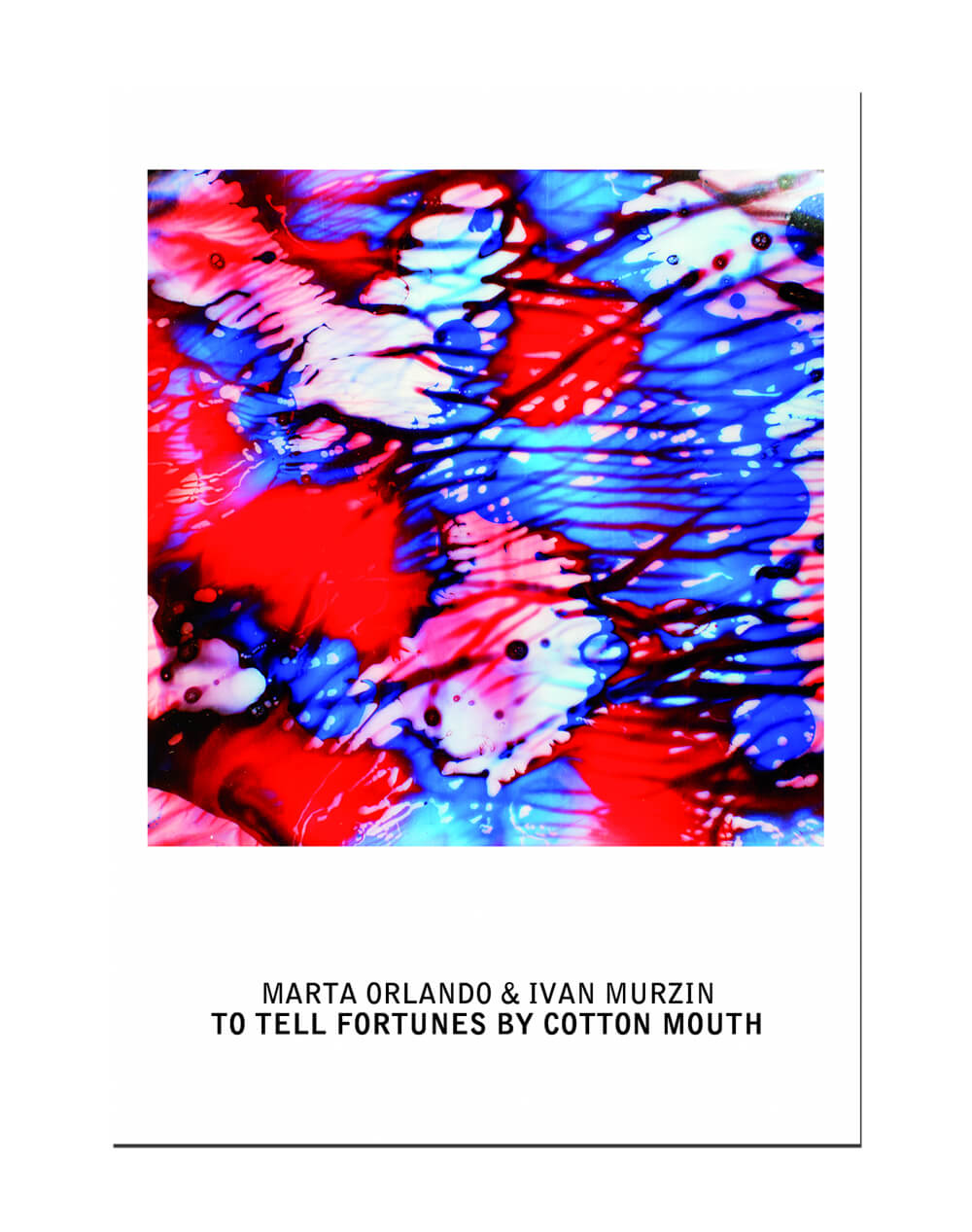 Marta Orlando / Ivan Murzin
To tell fortunes by cotton mouth

Eröffnung
18.05.2015, 19 Uhr
Ausstellung
20.05.2015 – 26.06.2015
Mi – Fr 18.00 – 20.00 Uhr
sowie nach Vereinbarung
Unter dem Titel To tell fortunes by cotton mouth, wird am 18. Mai 2015, um 19 Uhr die zweite Duoshow mit jungen Künstlern der Städelschule Frankfurt – Ivan Murzin und Marta Orlando – im Husslehof eröffnet. Die Ausstellung ist der Funktion von Sprachen und den damit verbundenen Problemen der Kommunikation gewidmet. »Der Text« tritt darin als das Gedächtnis der Kommunikation und gleichzeitig als ihre Grenze auf.
Husslehof will open the second duoshow "To tell fortunes by cotton mouth", on May 18th 2015, 7pm with two young artists of the Städelschule Frankfurt – Ivan Murzin and Marta Orlando. The exhibition is dedicated to the function of languages and the associated problems of communication. " The text " occurs therein as the memory of communication and at the same time as its limit.
all photos Ivan Murzin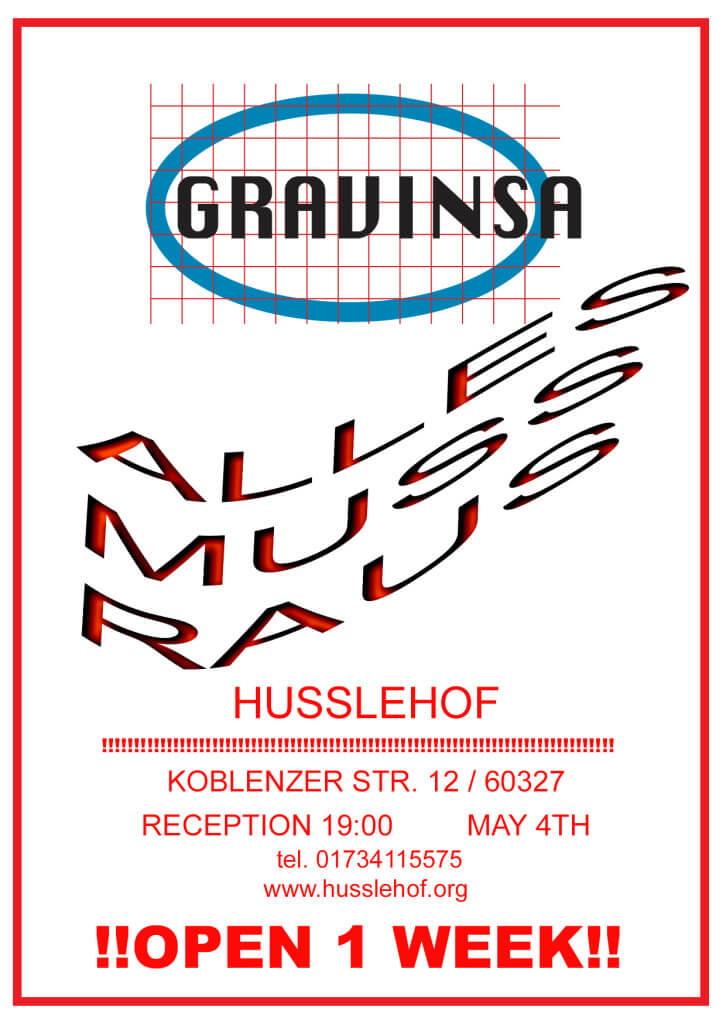 Jose Montealegre
GRAVINSA
ALLES MUSS RAUS
Opening
04.05.2015, 7 pm
Opening Hours
04.05.2015 – 08.05.2015
Mo – Fr 12.00 – 4.00 pm
We are sad to announce that Gravinsa, the store chain that provided Europe with the finest construction materials and hardware must now close its doors. After serving its customers for 25 years, all the Gravinsa retail locations across Europe are holding a massive liquidation of all of their stock, everything must go, and all sales are final. What you see here is what remains on stock. Enjoy the last sale.
all photos Benjamin Vögler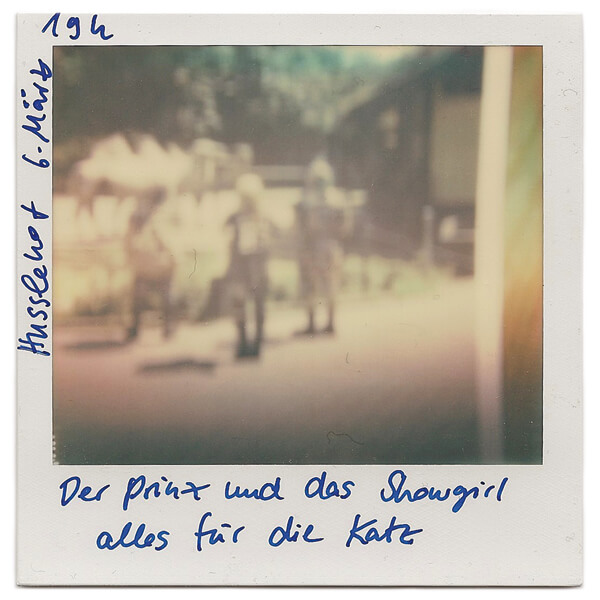 Tina Kohlmann / Moritz Grimm
Der Prinz und das Showgirl
alles für die Katz
Eröffnung
06.03.2015, 19 Uhr
Ausstellung
07.03.2015 – 30.04.2015
Mi – Fr 18.00 – 20.00 Uhr
sowie nach Vereinbarung
"Wie bin ich doch lecker", sonnte sich der Schinken in seiner speckglänzenden Schönheit und ließ sich auf eine solche Weise lässig von der Decke hängen, dass jedem Betrachter augenblicklich das Wasser im Munde zusammenlaufen musste. Wie er da so prangte, als kulinarisches Ensemble aus zart-rotem Muskelfleisch, kraftvollen Sehnen und einem Hauch edelsten Fettes, konnte man ahnen, bei seinem Verzehr einen Teil der Kraft und Anmut seines einstigen Trägers auf sich selbst zu übertragen. "Man ist, was man isst", schien er dem Betrachter zuzurufen. "Werde du ein wenig wie ich und so du selbst."
"Was bin ich doch furchteinflößend und Schrecken verbreitend", lobte sich der Tiger ob seiner hierzuorten offensichtlichen Einzigartigkeit und schritt wohlbedacht gravitätisch durch sein Revier, den mächtigen Schädel mal nach links und dann wieder nach rechts neigend, wie ein König, der seinen Untertanen einen sowohl gnädigen als auch gestrengen Blick zukommen lässt, so, dass es jedem, der einen dieser Blicke erheischen musste, einen eiskalten Schauer den Rücken herunterlaufen ließ. "Seht her, hier bin ich, Majestät von Schöpfers Gnaden."
"Selbstverliebte Narren", grinste die Spinne und zog aus der Mitte ihrer kunstvoll gewobenen Todesfalle genüsslich einen dünnen, kaum sichtbaren neuen Faden hinter sich her. Es war, als sprudele aus ihr unaufhörlich ihr feinziseliertes Imperium hervor, ein Grab für jeden Eindringling. "Euer Schicksal hängt an einem seidenen Faden", dachte sie und bedauerte nun fast jene, die sich ihr an Größe und Schönheit offensichtlich überlegen fühlten und diesen Irrtum erst bemerkten, wenn sie dann sehen mussten, was sie nicht glauben wollten, und begriffen, dass es zu spät sein könnte, wenn es schon vorbei war.
"Nutzt die euch verbleibende Zeit gut, denn letztlich ist mir noch jeder ins Netz gegangen."
Elisa R. Linn
all photos Mara Monetti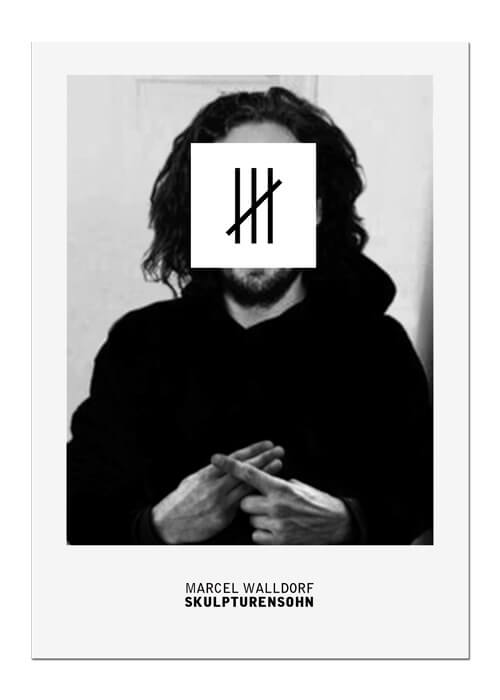 Marcel Walldorf
Skulpturensohn
Eröffnung
28.11.2014, 19 Uhr
Ausstellung
29.11.2014 – 23.01.2015
Mi – Fr 18.00 – 20.00 Uhr
sowie nach Vereinbarung
Mit der Eröffnung des Husslehofs am 28.11.2014 zeigt der Künstler Marcel Walldorf unter dem Titel "SKULPTURENSOHN" Arbeiten seiner jüngsten Schaffensphase. Walldorfs Themen und handwerkliche Arbeitsweisen sind vielfältig. In seiner aktuellen Ausstellung verwandelt Walldorf den Husslehof nicht nur in eine Galerie, sondern in eine begehbare Installation, in eine Manege, in der er mit dem Verhältnis von Mensch, Tier und unseren sozialen Gepflogenheiten spielerisch umgeht.
"Die Skulpturen, Objekte und Installationen von Marcel Walldorf verfolgen nie direkt eine politische Absicht, wenngleich eine pointierte Gesellschaftskritik und ein gewisser ziviler Ungehorsam häufig im Spiel sind. Bewusst wählt der Künstler Alltagsgegenstände und kombiniert diese neu, um unbehagliche Situationen zu inszenieren, die den Betrachter zum Nachdenken über seine eigenen Unzulänglichkeiten anregen. Dabei ist ein Augenzwinkern des Künstlers nicht zu übersehen." (Auszug aus dem Buch Rising: Young Artists to keep an Eye on, DAAB Verlag, Köln, 2011)
Walldorf bleibt direkt, ohne dabei aufdringlich oder flach zu werden. Seine Kunst unterhält und erreicht den Betrachtenden so intuitiv. Schon im Titel zeigt sich das Spannungsfeld zwischen Atelier und Straße, dass Walldorf glaubhaft vertritt. Sein Stil zeichnet sich durch sicheres Gespür für doppelbödigen Witz, treffende Bilder und Metaphern aus. Walldorf verweist auf die Lebenswelt jenseits der Atelierwände, er überspitzt menschliches Verhalten und hinterfragt so Symbole der Macht und gesellschaftliche Normen kritisch.
Marcel Walldorf (*1983) studierte bis zum Vordiplom bei Manfred Stumpf und Wolfgang Luy an der HfG Offenbach und wechselte dann an die HfBK Dresden, wo er 2014 sein Meisterschülerstudium bei Eberhard Bosselt absolvierte. Der Künstler lebt und arbeitet in Frankfurt am Main. Marcel Walldorf war mit seinen Arbeiten bereits bei zahlreichen Ausstellungen im In- und Ausland vertreten. 2010 erlangt Walldorf mit der Plastik "Petra", der Darstellung einer pinkelnden Polizistin in Kampfmontur, international Aufmerksamkeit. Mehrwöchiges kontroverses Medienecho war die Folge. Das Werk gewann im Januar 2011 den 3. Platz der Leinemann-Stiftung für Bildende Kunst.
With the opening of Husslehof on 11/28/2014 the artist Marcel Walldorf shows his most recent work under the title "SKULPTURENSOHN". Walldorfs topics and technical procedures are varied: In his current exhibition Walldorf transforms the Husslehof not only into a gallery, but in a walk-in installation in an arena in which he playfully deals with the relationship between humans, animals and our social practices.
The title reveals the tension between the studio and the street, that Walldorf represents in his work. Walldorf remains direct, without being pushy or flat and reaches the viewer intuitively. His style is characterized by a keen sense of ambiguous humor, striking images and metaphors. The artist refers to the life and world beyond the walls of the studio, he exaggerates human behavior and thereby questions symbols of power and social norms critically.
Marcel Walldorf (*1983) studied with Manfred Stumpf and Wolfgang Luy at the Offenbach School of Design and then moved to the Academy of Fine Arts Dresden, where he completed his graduate studies with Eberhard Bosselt 2014. The artist lives and works in Frankfurt am Main. Marcel Walldorf was presented in numerous exhibitions at home and abroad. 2010 Walldorf gained attention with the sculpture "Petra", the representation of a peeing policewoman in riot gear. Controversial media coverage was the result. The work won the 3rd prize of the Leinemann Foundation for Visual Arts in January 2011.
all photos Thorsten Fuchs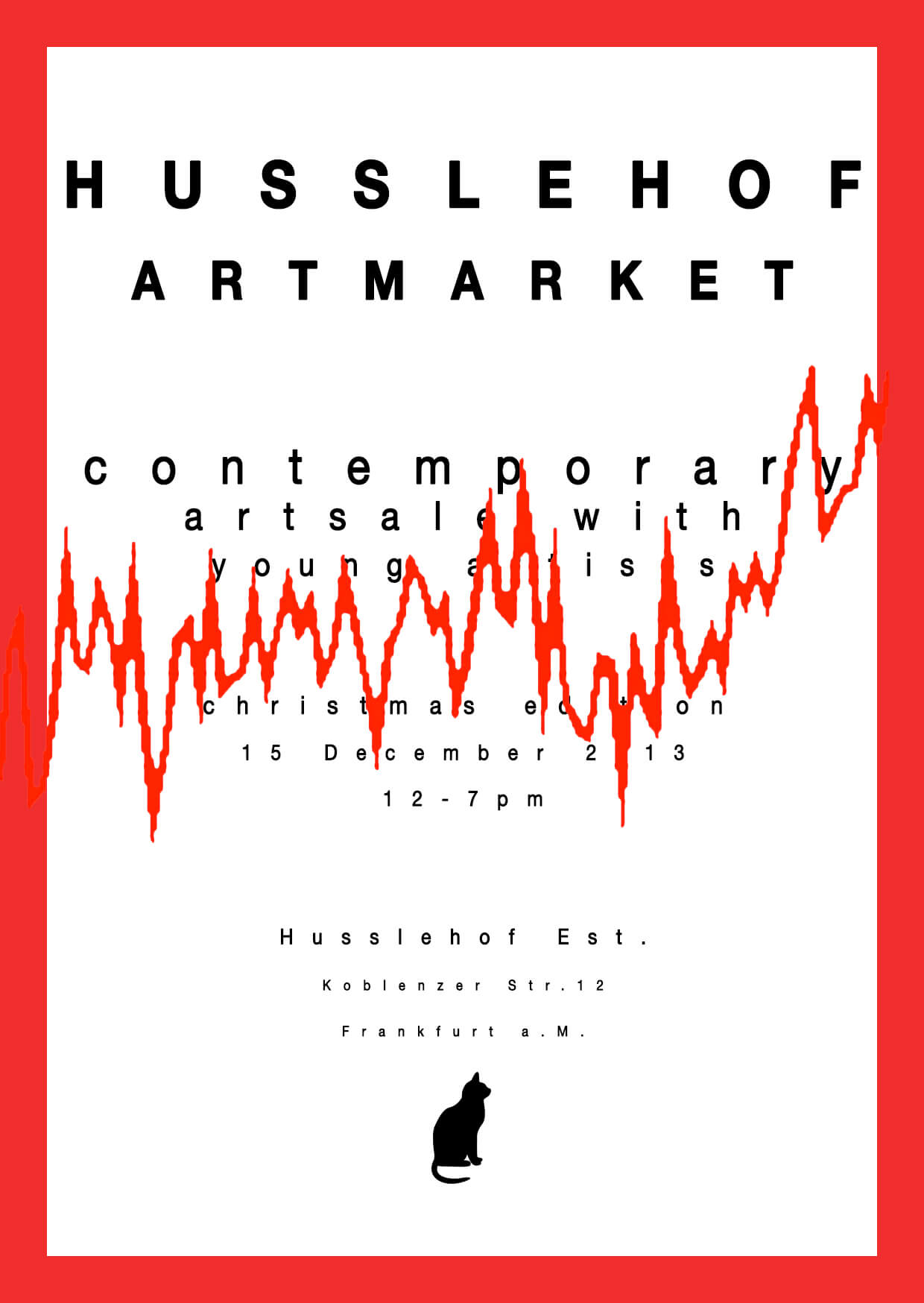 Huseyin Oylum
HUSSLEHOF ARTMARKET
contemporary artsale with young artists
christmas edition
15.12.2013, 12 – 7 pm
all photos Duc V. Nguyen